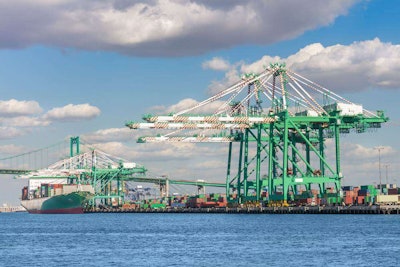 Despite mounting pressure on West Coast ports to fix a bulging cargo backlog, top-paying vessel work has been temporarily suspended for the second weekend this month.
The Pacific Maritime Association announced it would halt the loading and unloading over the holiday weekend because of slowdowns by the International Longshore and Warehouse Union. Since May, the organization representing port employers and the union have attempted to reach agreement on a new contract affecting 20,000 dock workers in 29 ports.
The National Retail Federation's Jonathan Gold called the suspension an example of both sides "shooting themselves in the collective bargaining foot." The past month, a federal mediator has assisted negotiations and talks are expected to resume Feb. 12.
"Enough is enough," Gold said. "The escalating rhetoric, the threats, the dueling press releases and the inability to find common ground between the two sides are simply driving up the cost of products, jeopardizing American jobs and threatening the long-term viability of businesses large and small."
At a Feb. 10 U.S. Senate commerce hearing, Cargill Pork's Norman Bessac asked Congress to help resolve the dispute.
The Cargill vice president said truckers are an example of modifying operation to cope with supply chain disruptions. If they hauled goods to the port, they may change routes to avoid the wait and to ensure a more reliable income, he said. "Commerce does not automatically go back to normal as soon as the disruption ends," Bessac stated.
The PMA previously had suspended vessel work from 5 p.m. Feb. 6 to 8 a.m. Feb. 9 after pitching a comprehensive contract to the union. But the ILWU demanded authority to fire arbitrators who ruled against them, such as during work slowdowns, said PMA spokesman Wade Gates.
"The ILWU's current slowdowns, now in their fourth month, show the very reason that we need a healthy arbitration system in place," Gates said. "It is essential to be able to prevent the crippling slowdowns that are impacting workers and businesses across the nation."
Vessel operations are suspended on Lincoln's birthday, this weekend and on Presidents Day. Yard, gate and rail operations will continue at terminal operators' discretion. Southern California terminal operators will expand daytime vessel operations on non-holiday weekdays.
On holidays and weekends, hourly wages for longshore workers and clerks is $54-$75 and $77-$92 for foreman, he said. The drop in productivity coupled with the congestion that became worse late last summer has made slowdowns the equivalent of "a strike with pay."
On Feb. 10, Hanjin announced it will terminate direct call service to Port of Portland. Labor disputes have been widely blamed for the loss of the Korean shipping giant, which is responsible for the majority of the port's container traffic.