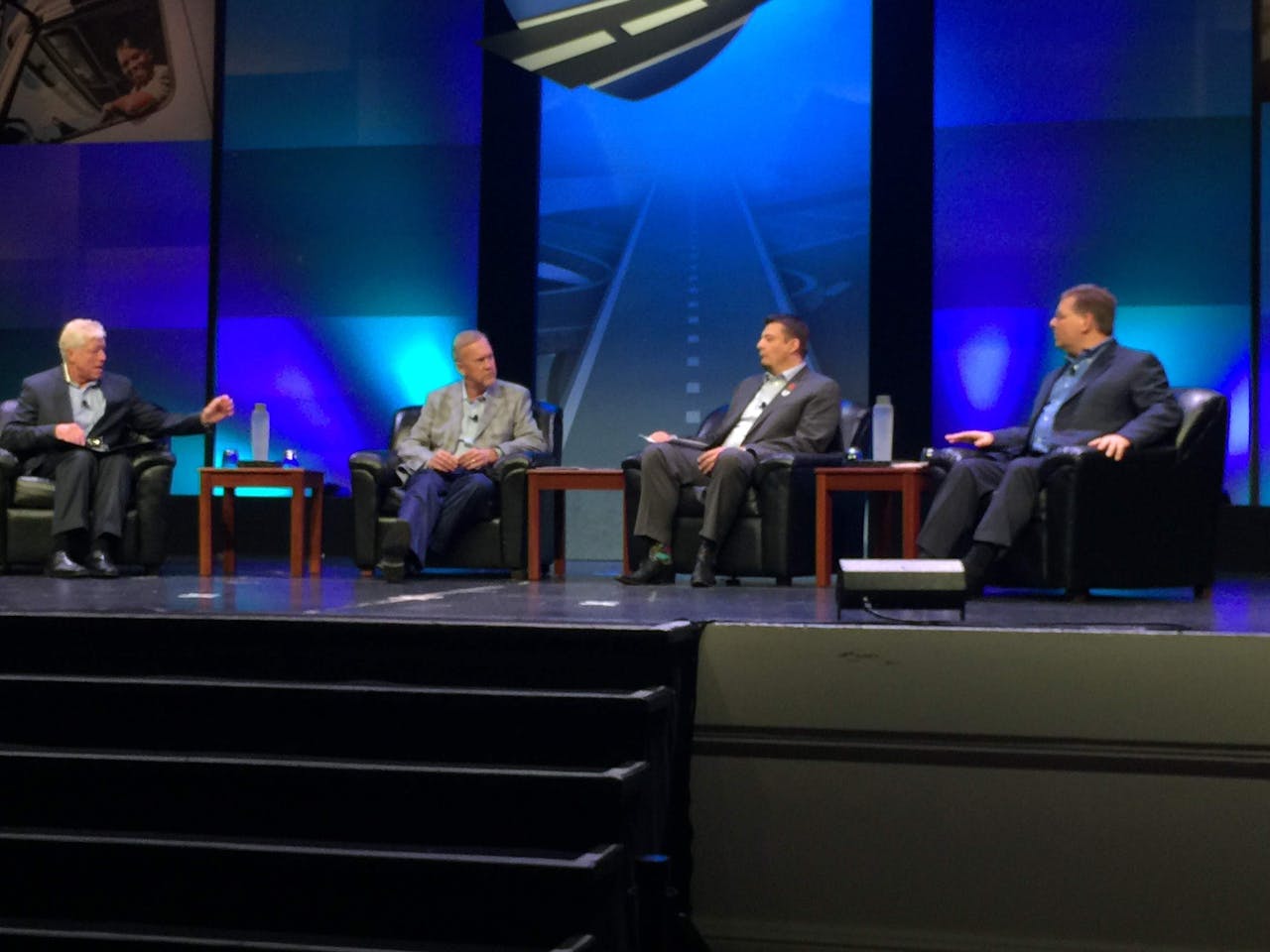 A panel of fleet executives discussed strategies for building a culture of safety during the Truckload Carriers Association's annual conference at the Gaylord Palms resort, held March 8-11, in Kissimmee, Fla.
Panelist Bob Peterson, president and chief executive of Melton Truck Lines, described the conflict between operations and safety as an "old school" problem.
Tulsa, Okla.-based Melton is self-insured for "almost everything we do," he said. Accepting a greater amount of risk as a self-insured carrier has helped put safety at the forefront of people's minds.
"If you do the math and figure out how much money you make after moving a load a long distance, it's simply crazy to think about jeopardizing the safety of the driver, our customer's cargo, or our equipment or another motorist if there are any flaws in what should otherwise be a flawless delivery," he said.
Melton is using technology such as electronic logs and advanced planning tools to keep its operations in compliance with regulations and its own safety protocols.
Peterson also discussed how the company uses video event recorders to coach drivers. The company plans to install cameras in all 1,100 trucks by the end of 2016.
Besides capturing video events for training, Melton has been using the cameras to defend itself in court. Recently, a video proved essential to derail a lawsuit brought by a motorist that slammed into one of its trucks, he said. The company also caught one of its own drivers texting while going 70 mph with an unauthorized passenger in the cab. The driver rear-ended a vehicle.
"If we are doing something wrong, I want to know so we can do the right thing. I believed these (cameras) have more than paid for themselves," he said.
The panel agreed that building a safety culture takes more than technology; it has to start with getting people to "buy in" to the goals and vision of a company.
One way Melton accomplishes this is by having a bonus program for all employees that has an element tied to safety performance, he said. Twenty six of its employees also own stock in the company which helps to reinforce safety in all levels of the organization.
Another successful strategy involved swapping the jobs of two vice presidents at Melton — one who was in charge of safety and the other in charge of operations. The two changed jobs for a two-year period, he explained. This has helped the two departments better support each other.
The panel stressed that building a safety culture takes involvement from everyone in creating a visual brand that exemplifies what the company is about.
"Our culture is about the protection of people and trying to do what is right," said Rob Penner, executive vice president and chief operating officer of Bison Transport, based in Winnepeg, Manitoba Canada. Penner said Bison used to have a culture of compliance but lacked a way to measure and benchmark its safety results. Its safety performance was irregular during that time, he said.
This culture changed when Bison started to compete for and win the Truckload Carriers Association's national fleet safety award. Winning this award for the first time in 2005, and in subsequent years, brought its safety program into focus and built its culture of safety. Bison Transport was presented the 2015 award during this year's conference.
At Bison, drivers are responsible for the execution of safety, and everyone else in the organization is responsible for the safety plan and to support the driver in any way they can, he said. Bison's safety brand is: "You're safe with me."
Panelist Brian Fielkow, president of Jetco Delivery, said a company's safety culture has to be "leader driven but employee owned," adding that "the true leaders of your business are the people leading your drivers every day. If those people don't get it, nobody gets it."
Jetco, headquartered in Houston, Texas, created a safety brand called "Driving to Perfection" to be a "visual affirmation of our values." The brand is printed on t-shirts, trucks, displayed on its onboard computers, and more. Employees came up with the brand, he says.
"Let the front lines take control. You can't get into somebody's head before you get into their heart."
Jetco also mails letters to drivers' homes every month to reinforce its culture of safety.
The panel was moderated by Pat Kuehl, executive vice president of Great West Casualty Company.