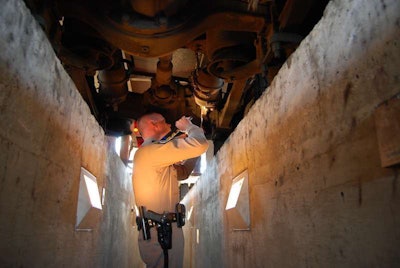 The House this week introduced another bill targeting the Federal Motor Carrier Safety Administration's Compliance, Safety, Accountability program and would, if it becomes law, force FMCSA to remove its carrier rankings from public view and restructure the program.
The Safer Trucks and Buses Act of 2015 is similar to a bill introduced in the previous Congress, again introduced by Rep. Lou Barletta (R-Pa.).
The legislation comes as pressure continues to mount against the agency's premier safety program from not only motor carriers but from government watchdog agencies, enforcement groups, brokers and others.
The public nature of the CSA's carrier ranking system has been one of the trucking industry's biggest concern with the program, if not the biggest, as its other flaws wouldn't be as pronounced if third parties did not have the chance to use the scores to make determinations about carriers, whether it be to hire them, insure them or work for them.
The legislation also comes directly on the heels of FMCSA's release this week of its QCMobile app, which grants easy access to CSA ratings. The agency also marketed the app as one that could be used by "insurers, brokers, freight-forwarders and others" to judge carriers' safety records.
Barletta's bill aims to fix CSA's scoring woes and the data stream used to calculate them.
It would require FMCSA to work with the National Academy of Public Administration to rework CSA by:
Utilizing only "safety data determined to be predictive of motor carrier crashes," with an emphasis on accuracy. The bill's text calls for controls on variations between state- and self-reported data and appropriate accounting for "geographical differences with respect to enforcement" and crash fault.
Avoiding the current harm to small motor carriers "as a result of limited safety data availability."
Addressing differences between bus and truck companies effectively.