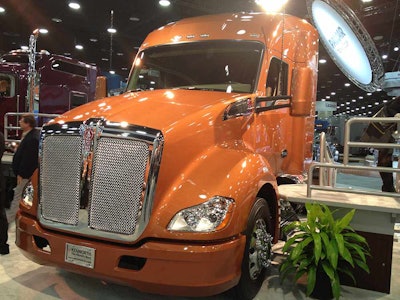 Kenworth announced Tuesday at the 2015 Mid-America Trucking Show in Louisville, Ky., the launch of a new 76-inch mid-roof sleeper for its T680 and T880.
Full production is expected to start in the fall.
Kenworth general manager and Paccar vice president Preston Feight says the 76-inch mid-roof sleeper is optimized for liquid bulk tankers, flatbed haulers and operators looking for a lighter weight, more aerodynamic truck with all the driver comforts of a full-height sleeper.
Feight says the mid-roof sleeper provides 100-pound weight savings when compared to Kenworth's 76-inch high-roof sleeper and up to a 5 percent fuel economy savings for tanker and flatbed applications, depending on load conditions.
"For many truck operators, obtaining additional payload capacity can make a big difference in potential profit. The efficient mid-roof design has lower drag, and provides a reduction in fuel expenses," Feight says.
Kenworth's 76-inch mid-roof sleeper features a liftable lower bunk and side storage towers, including hanging storage for drivers to store their clothes. A bunk for team drivers or a back wall sleeper storage unit is also available as an option, as is a factory-installed Kenworth Idle Management System. LED lighting is also used heavily throughout.
With the new addition, the T680 can be spec'd in 76-inch mid- and high-roof sleepers, 52-inch mid-roof sleeper and day cab. Kenworth's T880, the 2015 ATD Commercial Truck of the Year, can be spec'd in day cab, 52-inch sleeper and 76-inch mid-roof sleeper configurations.