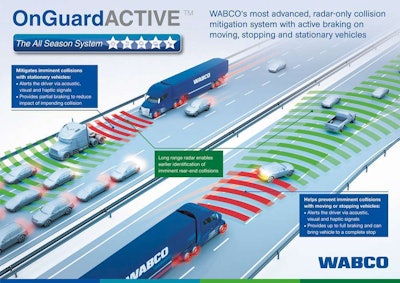 WABCO launched its most advanced collision mitigation system yet at the 2015 Mid-America Trucking Show in Louisville, Ky., this morning.
Nik Varty, president of WABCO's North American business, said the new OnGuardACTIVE system uses a 77 GHz radar to provide higher target visibility at longer ranges. The new system is more accurate, he says, and can actively track both moving, and stationary targets to provide even greater collision avoidance measures. The new radar system works in all weather conditions and a dual-mode allows both long-range and adjacent lane views.
Varty says OnGuardACTIVE alerts the driver to potentially critical driving situations via acoustic, visual and vibration signals. Should the vehicle operator fail to take corrective action, the system provides active braking on moving, stopping and stationary vehicles to mitigate or prevent impending rear-end collisions. Additionally, OnGuardACTIVE is capable of delivering up to full braking on moving and stopping vehicles and can bring the vehicle to a complete stop. It can also deliver partial braking on stationary vehicles.
WABCO safety systems deliver measurable, real-world benefits to fleets, Varty noted. He cited company data which indicated that fleets have seen 24 percent fewer fatalities when using OnGuard, 53 percent fewer rollovers with the company's ESCsmart stability system and 5,200 fewer vehicle crashes thanks to its mBSP modular braking system.
Varty also noted that fleets using full suites of WABCO vehicle efficiency systems such as tire pressure monitoring systems and adaptive cruise control can realize up to 10 percent boosts in single vehicle fuel economy.
Agreement for air disc brake system
WABCO also announced that it has signed a long-term supply agreement with Hendrickson Trailer Commercial Vehicle Systems to provide an advanced air disc brake (ADB) system for trailers in North America.
As part of the agreement, WABCO will bring its MAXX22T, an optimized ADB system for trailer applications, to North America. The new system combines WABCO's braking technologies with Hendrickson's medium- and heavy duty suspension and axle systems.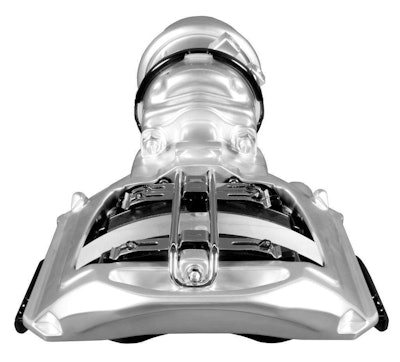 WABCO says its MAXX22T is the commercial vehicle industry's lightest air disc brake in North America, offering an overall weight reduction of up to 100 lbs on tandem axle trailers.
"The cooperation of our two industry leading companies brings together a powerful blend of expertise and industry-leading technologies," says Nik Varty, WABCO President, Americas. "We are proud to offer a state-of-the-art air disc brake system specifically for trailers in North America that can deliver high performance and value for our customers."