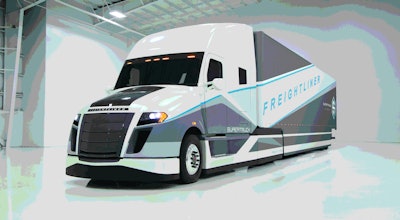 Freightliner unveiled its impressively futuristic SuperTruck prototype vehicle at the Mid-America Trucking Show this week, capping a five-year development process in conjunction with the U.S. Department of Energy and other leading industry manufacturers and suppliers.
Diane Hames, marketing director for Daimler Trucks North America, noted that Freightliner received the largest industry grant from the U.S. government. That sum, of $40 million was matched by Daimler and used to develop the highly sophisticated and sleek vehicle showcased in the Freightliner booth at this Mid-America Show.
Details on the truck were few, although Freightliner promised industry press an in-depth test drive later this spring.
The features listed by Freightliner are impressive, however. They include a 115 percent boost in vehicle freight efficiency, compared to conventional tractors on the market today. Other enhancements include a 50.2 percent increase in engine brake, a 54 percent reduction in overall aerodynamic drag and — most impressive of all — sustained 12.2 miles per gallon logged at 65 miles per hour on a stretch of I-35 between San Antonio and Dallas, Texas.
Under its skin, the Freightliner SuperTruck is an intriguing mix of current DTNA powertrain components and wholly new technology. The engine is a 10.7 liter Detroit diesel generating 375 horsepower and 1,375 pound-feet of torque. The engine features a rankin cycle waste heat recovery system, model-predictive engine controls and a hybrid driveline mated to a conventional DT12 automated manual transmission. The rear axle ratio is 2.28.1.
Other tidbits include a variable-geometry front radiator grill to optimize and balance cooling system performance and aerodynamic drag, as well as a fully-flush cab, sleeper and roof surface. The bonded front windshield is raked at a sleek 32 degree angle and streamlined rear-view mirrors are enhanced with a rear-view camera system. Solar panels are installed on the trailer roof to capture "free" energy to recharge batteries and power the fully-electric HVAC system. High-tech, lightweight composite materials were used throughout the vehicle and a high-tech software program actively manages kinetic energy for optimal feedback into the truck's powertrain.
Hames stressed that this SuperTruck models is a prototype only, but noted that several features finalized during its development process have already found their way onto current Freightliner models, with even more features sure to debut soon on the next-generation of Daimler highway tractors.