During a press dinner at the 2015 Mid-America Trucking Show in Louisville, Ky., Martin Daum, president and chief executive officer of Daimler Trucks North America, shared his company's optimism for near-term truck sales in North America, saying at the moment the U.S. is one of the few really strong markets in the world.
The North American Class 6-8 market finished the year with roughly 374,000 units sold in 2014, Daum said, and after a fast year-to-date start of 18 percent growth in 2015 compared to last year, DTNA remains optimistic in the near future for truck sales in North America.
"I would say that the entire market could be higher than 10 percent [growth] this year," said Daum.
DTNA is even more bullish on its forecast of the U.S. Class 8 truck market, with the company forecasting total market sales of 256,000 units in 2015, a 19 percent increase from 2014's 214,000 units. "This is what drives the industry at the moment and is by far the strongest part of our business," Daum said, adding that figure could be even higher given the current favorable market conditions.
DTNA forecasts the U.S. Class 6-7 market to retract slightly by 3 percent to 100,000 units after posting a 9 percent increase in 2014, noting this segment is more stable and has less volatility than the U.S. Class 8 market.
In terms of market share, DTNA forecasts it will recoup its slight losses in 2014 (37 percent North American market share) in all NAFTA regions for the Class 6-8 market with 4.4 percent growth in 2015 to 41.4 percent. In the United States, it expects to increase from 38.5 percent market share in 2014 to 42.8 percent this year. Meanwhile, the company predicts its market share to increase in Canada and Mexico by 4.6 percent and 7.1 percent, respectively.
To keep pace with growing demand and record-breaking order intake, DTNA increased its production capacity by 16 percent and added 2,300 production workers in the last half of 2014, which should increase truck production by 27,000 units this year. "There is absolutely no fear that those production slots will go empty. In fact, I have a feeling that it will not be enough," said Daum.
DT12 beats expectations
The Detroit DT12 automated manual transmission, a main component of DTNA's integrated powertrain package, has defied even DTNA's expectation in the first two years since it was introduced, and Daum cited the combination of fuel efficiency, driver convenience, integration and safety as reasons for customer acceptance.
"The integrated powertrain is pivotal for how you can engineer and build truck technology today, and it is the heart and soul of our success in the market," said Daum. "The sky is the limit with the DT12. It changed the entire market and at such a rapid pace. Even in my wildest dreams I wouldn't have seen that."
Future GHG regs need to foster "free thinking"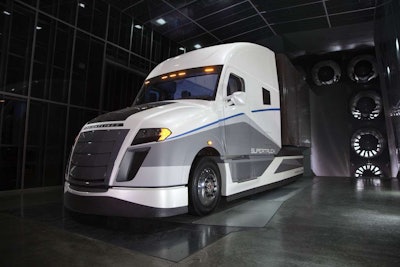 Freightliner introduced its 12.2-mpg Super Truck concept at an earlier press conference at MATS, the culmination of a five-year project partially funded by the U.S. Department of Energy. DTNA says it intends to be the first truck manufacturer to announce certification for the U.S. Environmental Protection Agency's 2017 greenhouse gas regulation large part due to the technologies that came out of the SuperTruck project.
But Daum added that truck manufacturers need the freedom to continue to innovate and evolve their products to meet any future emissions regulations beyond 2017.
"We need smart regulations that don't limit the market, but that support and foster free thinking," said Daum. "There are a lot of variables with fuel efficiency that we can optimize, but not with limitations that ultimately don't support the best solutions."
On the subject of future greenhouse gas regulations beyond 2017, Daum said DTNA "strongly advocates a complete vehicle standard. A lot of technologies which will today and in the future save fuel work together with other truck components. Any standard for a single component limits your ability to optimize the entire package." Daum also added that mature and feasible technologies must meet customer expectations of an 18- to 24-month payback.
Improving the nation's infrastructure is also critical to helping realize better truck fuel efficiency. "We can have the best truck, but if we have bad infrastructure, it's not going to work," said Daum. "One traffic jam can eradicate all the technology that we spent hundreds of millions of dollars to develop. If we don't get our infrastructure right in this country, we can do as much as possible in research and technology but it will be blown out the tailpipe after 10 minutes in a traffic jam. It is the biggest thing the government can do to help and that's why the highway bill is so important."