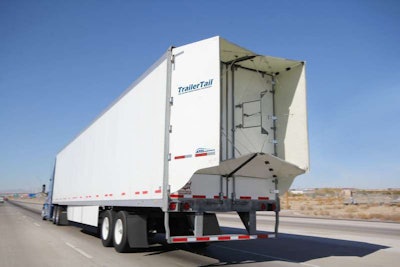 Stemco's recent acquisition of ATDynamics, which is known for its TrailerTail that streamlines air at the rear of box vans, has led to a major expansion of its sales force, said Stemco Vice President Bob Montgomery at the Mid-America Trucking Show in Louisville, Ky., March 27.
Montgomery also announced that Stemco has introduced a more durable hose for its tire inflation systems. The new replacement hoses are more rugged and performs better in high temperatures.
Testing has repeatedly shown that a TrailerTail and trailer skirts together can increase fuel efficiency by 9 percent to 11 percent, said Andrew Smith, who sold ATDynamics and is continuing to work with Stemco. "It is absolutely crazy to purchase or operate a long-haul trailer without skirts and tails on it," he said.
Montgomery said Stemco has increased its sales force focused on the product from 12 to 84 because of its confidence that the product will continue to spread throughout the market.
Smith noted three other benefits of using a tail:
It reduces trailer sway, especially in windy conditions, which improves tire wear and safety.
During rain, it reduces spray when vehicles are driving near the rear of a tractor-trailer.
The extended tail creates a "crumple zone" that discourages vehicles from following too closely.
Owner-operator fleets using TrailerTails have a recruiting advantage because of the fuel savings passed along to them. "Those owner-operators are starting to value that additional 2 cents per mile," he said.
Smith said the range of TrailerTail models peaks at slightly below $2,000 for one tail, and return on investment is typically six to 18 months.
Smith and Montgomery said there are almost 40,000 TrailerTails in use with 500 customers. Many newer customers are opting for the second generation of AutoDeploy, which opens a closed tail when the truck reaches 35 mph, so that drivers do not thwart the system's potential savings by leaving the tail shut.