Routing software in the back office and GPS navigation apps are used by fleets and drivers to optimize time, mileage and fuel purchases. Many of these use real-time data for traffic, weather, fuel prices and more to dynamically update trip plans.
To see how the latest in-cab navigation apps perform in the real world, check out CCJ Reviews where fleet managers rate ALK Co-Pilot, Telogis Navigation, Garmin Dezl and Rand McNally's IntelliRoute TND.
Despite the many benefits of these systems, something seems to be missing from the calculation: where to park and will spots be available when drivers arrive?
Without this information, drivers are more likely to stop at familiar spots, even if that means sacrificing productive drive time. Going for max utilization could be worse, however, since it could lead to spending a night at an abandoned gas station, industrial area, or freeway on ramp as the 11th or 14th hour approaches.
In 2009, the worse-case scenario happened when trucker Jason Rivenburg was murdered while taking a break at an abandoned gas station in South Carolina, 12 miles from his delivery. In 2012, a provision was added to the MAP-21 highway bill called Jason's Law to fund the expansion of public truck parking spaces.
Technology will have to move faster than infrastructure to solve the truck parking problem, but that appears to be happening.
In 2011, about 30 percent of truck drivers were connected with smartphones and tablets. By the end of 2014, 80 percent had the technology. Drivers are now using smartphones and crowdsourcing apps to contribute real-time data on truck parking to the routing process.
Here is a closer look at what two companies are doing to add truck parking to the equation.
Telogis Navigation
Telogis offers a "location intelligence platform" with a number of integrated components in a software-as-a-service. Its navigation software combines a turn-by-turn navigation app with a cloud-based route optimization engine.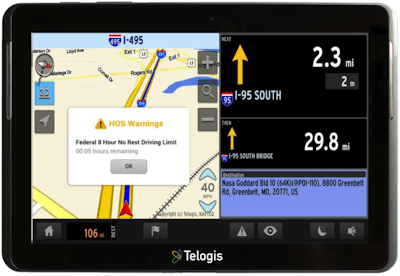 Telogis Navigation has multiple layers of map data and truck-specific points of interest like truck stops, rest stops, and other parking locations. Fleets and their drivers can enter and save information about these spots to create better routes.
Its route optimization engine uses the vehicle's current location, planned stops, and fleet-specific parameters to calculate routes. The Telogis Navigation platform can then calculate a real-time estimated time of arrival (ETA) for each scheduled delivery on a route. This dynamic ETA factors in the current vehicle, road and traffic speeds as well as drivers' hours-of-service constraints.
By knowing the ETA, drivers are able to plan ahead for parking, says Kelly Frey, vice president of product marketing for Telogis. If a delivery is scheduled for tomorrow morning in downtown Houston, for example, the driver could quickly see that he would run out of hours before reaching the location due to traffic conditions. Instead, the driver may decide to park outside of Houston and arrive at the delivery spot before rush hour, unload, and leave after traffic dies down.
"All of those things require optimization," he says. "Ultimately, one of the key things for driver retention is better trip planning."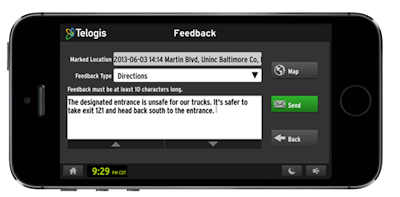 Telogis plans to extend its use of crowdsourcing to capture more information about parking locations, he says. It already uses crowdsourcing to gather updates on weather and road alerts for routing. Currently between 20 and 50 inputs are received daily from the 150,000 drivers at fleets that use its navigation platform, which runs on all types of mobile devices, he says.
Trucker Path
Being the owner of a Los Angeles-based freight forwarding company made Ivan Tsybaev keenly aware of the inefficiencies and problems in transportation. He decided to move to Silicon Valley to start a company called Trucker Path and do something about them.
The original plan was to develop a freight transportation marketplace platform for shippers, carriers and brokers to connect electronically and automate time-consuming tasks like freight matching, price negotiations, and load tracking.
"When we started building a marketplace, we realized we had a problem: we didn't have carriers or shippers. We had no value for anyone," says Tsybaev, chief executive and founder of Trucker Path.
To build a community, and show investors they could effectively grow a company, Trucker Path created an app for the Android platform to give truckers and fleets useful trip planning tools, all for free.
Its app uses crowdsourcing to maintain a database of ratings and reviews about truck stops, rest areas and other truck parking locations. The app can also be used to check the status of parking locations (empty or full) and weigh stations (open or closed).
The Trucker Path app will automatically detect when drivers are at a truck stop or other parking location. Drivers receive a pop-up notification to update the status of the parking lot. The system collects information from multiple users to verify the status, he says.
With a community of 200,000 active users of independent contractors and small fleets, Trucker Path has been able to attract a community of 300 brokers with 30,000 truckloads per day. The first version of its marketplace is in beta testing with plans to launch to the public in June, he says.
Its revenue will come from offering users premium features in the marketplace, he says. The other features, like truck parking, will remain free.