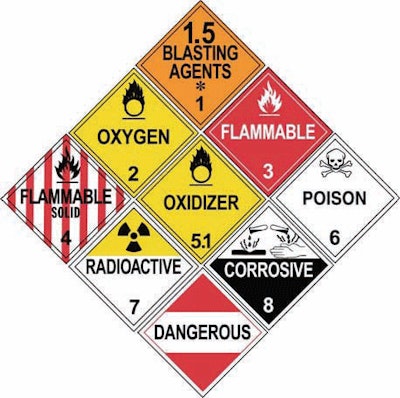 The American Trucking Associations has asked the Department of Transportation to grant hazmat haulers an exemption from the 30-minute break requirement of the Federal Motor Carrier Safety Administration's 2013 hours-of-service regulations.
ATA is requesting the exemption on behalf of all motor carriers that transport hazardous materials that require security plans per regulations set by the Pipeline and Hazardous Materials Safety Administration, another subagency of the DOT. These plans normally require a driver to "attend" such cargo while the vehicle is stopped, which would be an on-duty activity.
According to the request, which is set for publication May 1, attending to the cargo forces drivers to choose between FMCSA's off-duty rest break requirement and compliance with PHMSA's security plans.
ATA is proposing that drivers transporting hazardous materials for motor carriers be required to file security plans to allow them to count their on-duty "attendance" time for any hazardous cargo toward the 30-minute break requirement, as long as the drivers perform no other on-duty activity.
ATA initially asked FMCSA "to clarify that drivers can exercise constant attendance over a vehicle without having to remain on duty." After discussion with Agency officials, however, ATA agreed that its request should be treated as an exemption application.
The driver would be required to annotate the log book to show the time claimed as a rest break was on-duty time because he or she was required to follow the carrier's security plan, which in turn required "attendance" on an HM load.
ATA contends that allowing these drivers to count up to 30 minutes of their attendance time toward a required rest break, provided they perform no other on-duty activities during the break, would likely achieve a level of safety equivalent to, or greater than, the level that would be achieved by the current regulation because the attendance duty would be unlikely to contribute to driver fatigue.
FMCSA will accept public comment on the request for 30 days following its scheduled May 1 publication. Visit regulations.gov and search for the Docket No. FMCSA-2015-0012 to make a public comment.