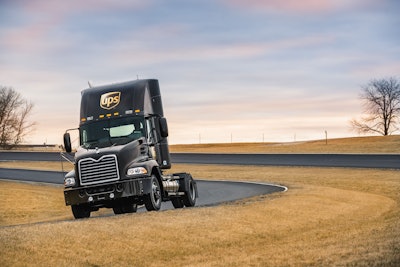 UPS announced Tuesday at the ACT Expo in Dallas it has entered into an agreement to purchase Redeem, a renewable natural gas (RNG), for its California-based delivery vehicle fleet from Clean Energy Fuel.
Mike Whitlatch, vice president of global energy and procurement for UPS, says movement toward RNG was a natural progression of the company's quest to explore fueling alternatives.
"There are no silver bullets," he says. "We don't have to have an all in or all out strategy."
Whitlatch says UPS has a goal of driving one billion miles on alternative fuel and advanced technology fleet by the end of 2017.
UPS fueling stations in Sacramento, Fresno and Los Angeles will begin using Redeem RNG (also called biomethane) for refueling tractors and delivery vehicles in UPS's fleet beginning this month and estimates the three stations will provide approximately 1.5 million gallon equivalents annually of RNG fuel to nearly 400 UPS CNG vehicles in the state.
Biomethane can be derived from many renewable sources, including decomposing organic waste in landfills, wastewater treatment and agriculture.
UPS's natural gas fleet which includes more than 2,500 medium and heavy duty vehicles, and the company currently operates natural gas tractors using RNG in the UK in a partnership with Mercedes Benz.
UPS was the first package delivery company to introduce alternative fuel tractors into its fleet, and now operates one of the largest private alternative fuel and advanced technology fleets in the U.S.
But Whitlatch says you don't have to invest millions of dollars in a strategy. You just have to be creative in how you investigate your options.
"Partner with a local agency," he suggests. "Or participate in testing."