The search for a viable alternative fuel strategy can be a lonely one.
Elizabeth Fretheim, director of logistics sustainability for Walmart says it's that lonely feeling that scares many fleets away from ever taking the first step.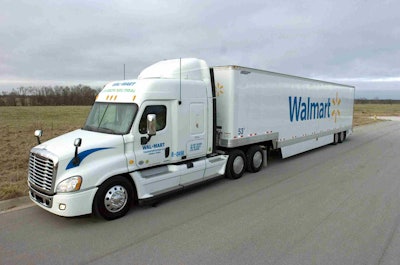 Fretheim notes "feeling like you're in a maze" when seeking an alternative fuel, with too many options with unknown outcomes and unintended consequences.
Further, the industry is capital intensive.
"Change is expensive," she says.
There's also the perceived risk that your fleet is the only one seeking a specific solution, leading only to further increased costs and marking the venture not financially viable.
To mitigate those reluctancies, Fretheim says fleets should push OEs for specific innovations and working together makes their voice more powerful.
"Even though we're all looking for that same finish line, and we're all running that some road, we're all running alone," she says. "There's not that collabortion we need."
There's also pressure from regulators. While significant change has taken place, plenty of pressure at both the federal and state level has been applied to do more and do it faster.
"There isn't a path forward," Fretheim says. "Specifically, we're at a crossroads."
Taking the right path from the crossroads will come from innovations, Fretheim says, adding OE have gotten about all they're going to get from existing technology.
"When you think about a truck and what it looks like, things haven't changed," she says. "You can only add so many farrings … and we're near the limits of what the engines can do."
Last year, Walmart unveiled its Project WAVE truck, an aggressive aero truck designed built in partnership with Peterbilt and Great Dane.
What Fretheim calls "a truck full of firsts" was built from the ground up and uses very few elements and materials of a traditional truck and trailer combo to achieve unprecedented fuel economy results.
It's that kind of aggressive engineering that is needed to revamp transportation equipment strategies, and get the kind of results the industry is asking for.
"We need to try some things that we haven't tried before," Fretheim adds. "The industry is not only ready for innovation, it's eager for innovation. The supplier base has the ingenuity to deliver. "