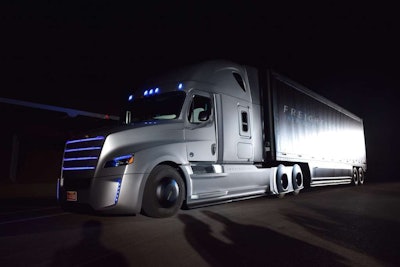 Freightliner unveiled May 5 the country's first road-legal self-driving truck. The announcement came in Las Vegas, Nevada, in two separate events — one to introduce the concepts behind the truck's making and to offer a preview of the new vehicle, and the other to completely reveal the truck and show it in operation.
Click here to read CCJ's coverage of the Inspiration's unveiling.
In a major ceremony held May 5 at the Hoover Dam outside of Las Vegas, Freightliner put on a spectacle to the hundreds of press members in attendance and to an international audience, as the show was live-streamed online.
Freightliner used the Hoover Dam as a backdrop for a world-record setting lights show, which was capped with the Inspiration crossing the dam as its official introduction.
Below is a short sights and sounds video from the day's events, followed by a photo gallery of the truck.
[envira-gallery id="139479″]