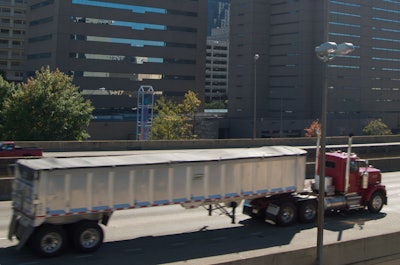 The Senate this weekend cleared the two-month highway funding patch passed last week by the U.S. House, securing solvency for the U.S. Highway Trust Fund until July 31. This is Congress' 33rd stopgap surface transportation measure in a decade despite introduction of several long-term bills.
Lawmakers also again pledged to pass multi-year highway legislation.
President Obama is expected to sign the bill to extend highway reauthorization, currently set to expire May 31. By voice vote, the Senate approved continuing Highway Trust Fund spending May 23 after the House passed the bill 387-35.
Lawmakers have not approved a long-term funding bill since the last one became law in 2005, followed by passage of a two-year bill in 2012. Obama said this "continual pattern of uncertainty" has caused states to cancel or delay projects during peak construction season.
Environment and Public Works Chairman Sen. Jim Inhofe and ranking member Sen. Barbara Boxer acknowledged passage of the latest short-term measure May 23. The Oklahoma Republican and the California Democrat said their committee's goal is to mark up a six-year surface transportation reauthorization bill June 24.
Oregon's Rep. Peter DeFazio and 19 other transportation committee Democrats reintroduced Obama's six-year bill May 19 after the administration floated the proposal earlier this year. The Grow America Act, a more ambitious version of last year's bill, states the transportation secretary may "by regulation require that a motor carrier employer" compensate "the employee for any on-duty, not-driving period at an hourly rate."
The legislation also would dedicate $18 billion of highway funds to a new dedicated multi-modal freight program. It would fund safety transportation programs via Highway Trust Fund revenue and a one-time 14 percent transition tax on $2 trillion of foreign earnings by U.S. companies, followed by a 19 percent minimum tax on global profits.
DeFazio has asked for a joint hearing between the ways and means and transportation committees to determine a long-term solution.
The Bridge to Sustainable Infrastructure Act, introduced earlier this year, has 30 co-sponsors and allows consideration of corporate tax repatriation and other funding solutions. Other current multi-year highway legislation include the six-year Infrastructure 2.0 Act. It funds the Highway Trust Fund at increased levels and creates a new $50 billion dollar infrastructure fund for state and local projects with revenues from international corporate tax reform. It was referred to committee Feb.2 with 18 co-sponsors