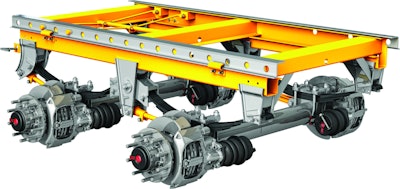 Component supplier SAF Holland says its new ULX40 Ultralite trailer suspension, unveiled this week, offers fleets increased payload and improved operating efficiency with reduced maintenance and increased simplicity compared to air ride suspensions that dominate the market today.
According to Jack Gisinger, president of SAF Holland's power vehicle systems business unit, the new suspension is in response to fleets taking a fresh look at mechanical ride trailer suspensions today. "Fleets need to reduce downtime to survive and thrive while keeping cost per mile under control," he notes. "Our mission at SAF Holland is to be the partner that allows fleets to achieve those goals."
The new ULX40 is packaged in an all-in-one system that Gisinger says SAF Holland, as the only manufacturer producing both mechanical- and spring-ride suspensions in North America, is uniquely positioned to offer trailer OEMs.
The new suspension offers fleets longer life, lower maintenance and lower operating costs compared to air ride suspensions, says Jeff Talaga, Vice President, trailer systems for SAF Holland. "This new spring-ride suspension will change the way fleets look at mechanical suspensions," he explains. "It's an engineered all-in-one system that offers lighter weight and easier to maintain with an industry-first 10-year suspension and axle system warranty."
The ULX40 is complete integrated slider suspension axle system with composite spriings and SAF drum or (optional) air disc brakes. The system features an all-new, composite spring design that is over 80 pounds lighter than conventional springs and results in total weight savings of up to 125 pounds per unit compared to air ride suspensions.
Talaga says the ULX40 provide the same performance as an air ride suspension without the complexity of those systems. For example, he notes there are no shock absorbers, air springs, height control valves or dock lock devices on the new suspension.
The ULX40 features a 40,000 pound capacity with a 5.75-inch diameter axle, which provides an additional 20-pound weight savings per tandem.