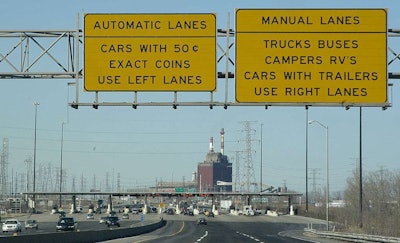 Trucking groups are voicing opposition to Rhode Island's proposal to fund repair of the state's deteriorating infrastructure by adding truck-only tolls on about 20 bridges.
Christopher Maxwell, president of the Rhode Island Trucking Association, said he will attend lawmakers' June 2 evening hearing on RhodeWorks. Gov. Gina Raimondo's and legislative leaders' proposal would institute a new user fee, projected to generate an annual $100 million over the plan's 10-year period. RhodeWorks funds would be used to fix more than 150 structurally deficient bridges and make repairs to another 500.
Electronic tolling would be implemented for trucks with three axles or more on bridges on Interstates 95, 195, 295 and 146, and Routes 6 and 10. This new fee would be used to pay off a $700 million proposed revenue bond that would be obtained to reconstruct bridges and prevent additional bridges from further deterioration.
Plan proponents have not indicated how much truckers will be charged in tolls or where.
On June 1, the Owner-Operator Independent Drivers Association and the RITA wrote the Federal Highway Administration, questioning whether this proposed "user fee" would violate federal tolling laws on existing interstates.
Rhode Island media, citing unnamed sources, have reported lawmakers are planning to drop Class 6 and 7 trucks from the toll proposal. Maxwell said if this is true, it raises the question as why these classes were necessary to charge when RhodeWorks was announced May 27.
"Suddenly they take thousands of trucks out of the equation?" he asked. "They're back peddling."
Lawmakers failed to include trucking in this discussion and the industry wants an equitable solution, Maxwell said. For example, Connecticut is considering dedicating a portion of its sales tax to transportation.
Another possible answer to fixing the state's infrastructure would be to raise the state fuel tax, he said.
Connecticut currently charges 32 cents per gallon tax at the pump, which will increase to 33 cents per gallon July 1. The average total state tax on retail diesel for northeast states is 34.81 cents per gallon and 29.70 per gallon nationally.
Plan backers say RhodeWorks also commits to providing more bus and rail service and funding for bike lanes and accessible sidewalks.
"It includes a proposal to construct an express bus lane as part of the 6/10 interchange reconstruction, and it seeks to attract an additional $400 million in federal matching funds for public transit," states the RhodeWorks announcement.
The American Trucking Associations last month also voiced its strong disapproval of the plan.