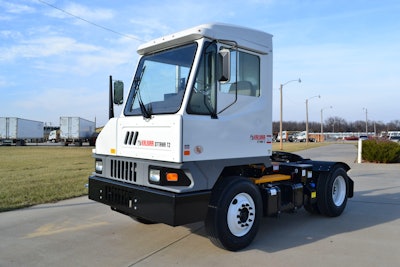 Terminal tractor maker Kalmar Ottawa this year released its newest terminal tractor, the T2, which is the first new model the company has produced in 15 years.
The Ottawa, Kansas-based company said it brought customers in and listened to what they said the perfect terminal tractor would be. From there, Ottawa built the T2.
Ottawa had a white-walled "idea room" built in its plant where the company took customers to write ideas on the wall for what the new tractor should be. Also in the room was a full-scale cab and a half-scale chassis, and Ottawa interviewed more than 60 drivers, maintenance technicians, safety directors and fleet managers from more than 25 top companies about what was or wasn't needed on the new model.
This customer input, coupled with the experience of building terminal tractors since 1958, led Ottawa to the new T2, which offers many improvements over the older Ottawa models.
Standard on all T2 models is what Ottawa calls a "roll over protection structure" to help protect drivers in case of a rollover. Ottawa also increased the size of the cab for drivers, increasing the width, height and depth of the cab by five inches each.
Unlike previous models, the T2 does not have a side-entry door – only a rear-entry door. Dave Wood, Kalmar Ottawa vice president for sales and marketing, said that is something both drivers and safety directors asked for.
"It helps save time for the drivers, and it also reduces the risk of a slip and fall accident," Wood said.
The rear door is also 20 percent larger than previous models at 23 inches — 4 greater than the previous 19 inches.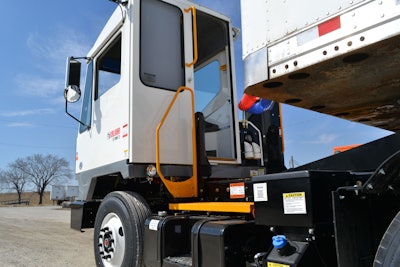 The boom and lift mechanism on the tractor is also an improvement. The lift cylinders now include standard spherical bushings located at their tops and bottoms to improve durability and performance. The 4-inch lift cylinders lift trailers approximately 18 percent faster, which adds up in a high-volume operation.
The warranty on the T2 is for two years, 6,000 hours, which is an improvement from the previous one-year, 3,000-hour warranty.
The cost of an off-road model of the T2 is close to $100,000, with the DOT/EPA certified model being higher. The increased cost of the trucks over the last decade has increased the demand for renting the trucks.
All of the trucks are manufactured in the plant in Ottawa, Kansas, where an average of 15 trucks are produced each day. As of May 29, Ottawa had built 605 T2's with a backlog of 762 more T2's to be built through the end of the year.