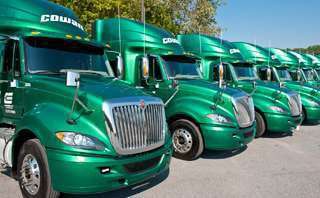 For the past 20 years, Cowan Systems (CCJ Top 250, No. 60) did not hire drivers with less than two years of experience. This standard has changed to meet conditions in the labor market, as it now hires drivers with one year of verifiable work experience and has created a training program to hire drivers straight from CDL schools.
To train drivers with limited or zero over-the-road experience, Cowan Systems decided not to invest in technologies like simulators or computerized training programs, says Dennis Morgan, president of the Baltimore, Md.-based truckload carrier.
"We use the old school methodology," he says. After new drivers attend orientation training they are paired with seasoned drivers on local routes using day cabs and automatic transmissions. The initial training period lasts between four and eight weeks.
Drivers then graduate to solo operations but stay on local routes for a few more months before being promoted into regions with longer-length routes based on their measured results.
"We've been doing this for about six months, but we are moving very cautious," he says.
Whether fleets decide to use old-school or high-tech training methods, or a mixture of both, experts say it is critical to document the training and the results. If an accident occurs, plaintiff attorneys will take advantage of gaps in training records to argue that the company was negligent and that its drivers were unfit for duty.
Here are four technologies now being used to train drivers and, perhaps just as important, to document that the training happened.
Driver performance monitoring
Not all of Cowan Systems' training is old school. The company is using a vision-based collision and lane departure warning system from Mobileye. The device, mounted on the windshield, alerts drivers if they cross lane markings without using their turn signal. It also warns if following distance falls below a three-second cushion.
The company also uses an onboard computing and communications system from Omnitracs to monitor if drivers are taking turns too fast, braking harshly or speeding. The system sends alerts to the office if Mobileye detects that drivers are following too closely for an extended period or not using their turn signals on a regular basis.
Management receives these real-time alerts and follows up with drivers when they return to the office. For more serious violations they call drivers immediately.
Driver monitoring technologies have more impact on newer drivers for changing behaviors, he says, but lane departure warnings can be a nuisance in metro areas with narrow lanes.
"In New York and Manhatten it is useless," he says, "but some drivers give us positive feedback that it saved them by helping them be more alert and to stay in the lane."
Learning management systems
One way to streamline driver training is with software designed to manage and monitor the progress of drivers through every stage in a formal training program.
EBE Technologies offers an Learning Management System (LMS) that carriers use to manage in-house and third-party training content. Users can embed their own training videos, PowerPoint presentations, randomized tests and more into their coursework and manage it through a single dashboard.
Maverick Transportation (CCJ Top 250, No. 78) uses the EBE system to ensure that drivers meet all standards for its custom training program called Truck Management Skills (TMS). The training is an array of computerized and instructor-led courses on safety, map reading, electronic logging and truck utilization and more.
Its course content is written to reflect what management expects drivers to know at certain points in the program. Maverick uses the LMS tool to administer tests that "allow quick snapshots" of how drivers are performing and what areas they are struggling with, says Curt Valcovik, director of driver training.
Custom content
Companies like J.J. Keller, Vertical Alliance and Instructional Technologies, Inc., provide online LMS with a library of driver training materials. Clients are increasingly asking for custom content to better engage drivers in their company culture and to cover specific training topics, they say.
The demand for custom content led J.J. Keller and Associates to establish an Implementation Services department. This group is designed to give fleets a cost-effective way to create training materials and load them into its online LMS to assign and document coursework, says Brian Kubiak, J.J. Keller's director of marketing for training.
Recording everything
Virtual Alliance, which provides a web-based LMS called Infinit-i and training content, is wrapping up development of a tool called Assessment Deck. Fleets will be able to use the tool to convert paper forms into electronic forms to capture and document information and create reports for things like vehicle inspections, internal audits, cargo claims, and more.
Like the web-based LMS, the online Assessment Deck has an administrative portal to assign forms to different groups and people in an organization. An e-mail can be sent to the appropriate people with a link to complete a form online.
While technology is being used to automate many aspects of driver training, the fact that it can also document that the training took place may be just as important. Without this modern convenience, the training never happened as far as the courts are concerned.