A look at trucking economic indicators reported in the last week:
[gttable cols=""]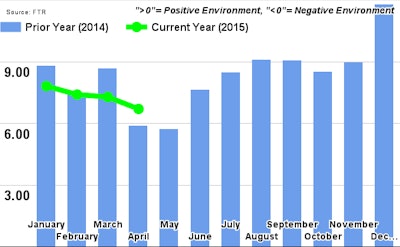 Trucking conditions flat, expected to take off: Though April's reading of the monthly Trucking Conditions Index from FTR fell 9 percent from March, the index could soon be heading upwards, signaling strong favorable market conditions for trucking companies.
The index's current lingering weakness is due to the ongoing hours-of-service suspension that opened up capacity some, thereby easing pressure on rates. Lower fuel prices, meanwhile, continue to put upward pressure on the index, for now.
FTR says, too, the industry could be heading for a capacity crisis in 2017 due to looming "additional regulatory drag." Contract rates for carriers should continue to grow too, says FTR's Jonathan Starks, as carriers seek to secure contracts to avoid effects of a potential capacity crunch.[/gttable]
[gttable cols=""]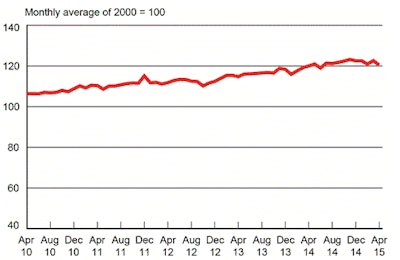 Trucking leads DOT-reported freight decline in April: The Department of Transportation issued last week its monthly Freight Transportation Services Index for April, which showed the amount of freight moved by the for-hire transportation industry dropped 1.8 percent in the month from March.
The index includes all segments of transportation, and declines in trucking and pipeline led the index's drop in April, according to the DOT's report.
Year-to-date in April, freight shipments are down 1.7 percent from the same month last year. And April 2015's index was 0.3 percent lower than April 2014's.
The index reading in April was 120.4, a gain of 27.2 percent from the all-time low of 94.6 set in April 2009 but 2.3 percent shy of November 2014's all-time high of 123.3.[/gttable]