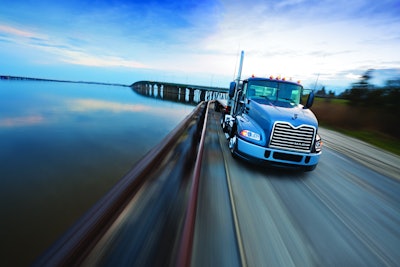 The Federal Reserve Bank's June report noted national freight and port activity was mixed, while also reporting a shortage of truckers in the New York, Cleveland and Kansas City districts.
The Fed gathers anecdotal information from financial experts in the nation's 12 districts, which it compiles eight times a year for what is commonly known as the Beige Book.
Kansas City District transportation firms saw stronger activity and New York District reported brisk demand for trucking services. Richmond District had slightly more demand for trucking compared to in April and expanded year over year in the Atlanta District.
Port activity remained strong in the Richmond, Atlanta and Dallas districts, with Richmond stating it received diverted West Coast port traffic.
Cleveland District contacts reported mixed freight volume, with the softer demand attributed to the steel and energy industries slowdown. A few contacts continue to operate at high levels of capacity and strong pricing was attributed to capacity issues. Most freight haulers said volume softened. They believe markets generally are not as strong as compared to the fourth quarter. Growth was indicated in intermodal transportation and the transport of seasonal products.
Cleveland reported fleets continue to aggressively replace older equipment and little cost change, other than diesel fuel increases passed through surcharges. A driver shortage continues to put upward pressure on the driver pay scale, the report says.
Atlanta's transportation contacts continued to report varying levels of activity. There was strong growth in containerized, bulk and break-bulk cargo. Trucking activity expanded as compared with a year before.
A Philadelphia transportation services analyst said trucking activity looked weaker compared with a year ago, even taking a temporary lull due because of regulatory constraints was taken in to account.
The bank's June Beige Book also noted that:
* New York contacts said trucking had performed particularly well because of reduced diesel prices, brisk demand and catching up on West Coast ports backlog.
* Chicago sales of heavy trucks grew steadily, supported by low diesel fuel prices and improvements in the economy.
* In Dallas, a trucking company reported raising rates to cover increased labor costs, but otherwise reports from trucking firms were mixed.
* St. Louis trucking reported both layoffs and new hires.