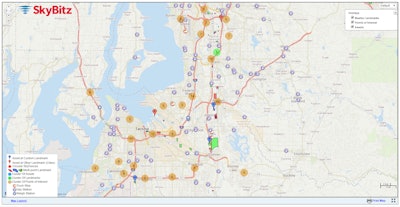 ALK Technologies and SkyBitz announced the integration of ALK Maps with SkyBitz InSight, an asset tracking and management web application. The combination provides SkyBitz customers real-time visualizations of interactive street-level maps with satellite imagery.
"We are pleased to offer SkyBitz customers enhanced North American maps with common industry-specific information that will help them to improve their operations," said Henry Popplewell, senior vice president and general manager, SkyBitz. "The new mapping integration can help customers to visualize their assets with more contextualized information."
ALK Maps enhances InSight with relevant, transportation-specific data that is missing from consumer mapping applications, the companies say. InSight users will now have truck-specific map overlays for fuel and truck stops, weigh stations, toll roads and landmarks, in addition to commercial restrictions and hazmat designations.
The enhanced map layers can apply to multiple industry segments that SkyBitz serves including trucking, oil and gas and intermodal. Customers will also have the ability to set up geo-fencing for Class 8 vehicles, clustered layers and benefit from other enhancements to landmark creation and editing.
"ALK Maps will complement SkyBitz's leading remote asset tracking capabilities by allowing customers a greater level of control over finding the closest available resources to their assets. This includes visibility not only of where they are, but also how they got there. All of this can be accomplished from a single, integrated solution," said Dan Popkin, senior vice president, enterprise solutions at ALK.