The Internet of Things (IOT) has a different meaning depending on your vantage point. As a consumer, the "things" could be phones, Fitbits, smart clothing, cars, home appliances and other devices that share a common network and Internet connection.
As a fleet owner, manager or driver, the "things" could be electronic logs, video event recorders, collision warning systems, electronic control modules, vehicle sensors and other devices connected to a vehicle's network or mobile computing platform.
In the consumer world, thousands of devices and applications are compatible straight from the box and the App Store or Google Play. The same is not true for trucking technology. A collision warning system, for instance, cannot be integrated with a telematics system at the push of a button like pairing a Fitbit with a smartphone. But the trends are moving in that direction.
For starters, technology companies are finding ways to get fleets upgraded to their latest "things." Heniff Transportation Systems recently outfitted its fleet with a new trailer tracking system by SkyBitz through a monthly subscription service that includes its Falcon series hardware, integration with back-office software, onboarding support, and real-time reporting and analysis tools.
Heniff is using SkyBitz in "a lot of different ways," says Justin Neal, director of business integration for the Oak Brook, Ill.-based company. As one example, Heniff has a portal that customers use to see the real-time status of loads. The estimated time of arrival for each load is displayed next to a visual "stoplight" that turns green if a load is on-time or red if it is running late.
As for compatibility between various devices and applications, the Internet of Transportation Things (IOTT) is taking shape as more companies convert to consumer-style platforms like Android. This makes it easier for fleets to bring on new apps that more easily integrate with others in the vehicle and back office. In some cases, in-cab computers have become mobile hotspots that connect various devices, sensors and third-party systems to the Internet through a single gateway.
In this three-part series on the Internet of Transportation Things, CCJ begins by taking a closer look at how the concept applies to the the electronics of modern trucks.
The vehicle network
For years, trucks have had a built-in controlled area network (CAN) that its various systems and components use to share information with other connected systems on the vehicle. The information shared in this network uses a standard format or protocol called J1939 for heavy-duty trucks and OBD-II for light-duty vehicles.
Aftermarket devices, like onboard scales and tire pressure sensors, can also connect to the vehicle network through a wired connection to send and receive information. Mobile communication platforms can plug into this network to monitor and transmit information to the office.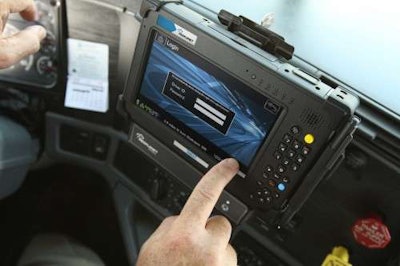 "Our industry has been doing the Internet of Things for a long time," says R. Fenton-May, chairman of CarrierWeb, a provider of mobile communications and telematics technology. Onboard devices, such as CarrierWeb, use the J1939 connection to provide mission-critical data for electronic logs, load tracking, driver performance monitoring, and more.
Mark Botticelli, chief technology officer of PeopleNet, says there is an opportunity to improve the sharing of information among various third party systems that connect to the vehicle networks like lane departure warning and stability control. Currently, most of these systems do not know what the other devices on the network are saying, he says.
PeopleNet's latest onboard unit, the PeopleNet Mobile Gateway (PMG), is designed to enable greater data sharing among third party systems in the truck, he says. As an example, perhaps an engine sends a certain fault code that several devices on the vehicle want to see immediately. The company is developing a service that will make it easier for third party devices to get that information in real time.
Stay tuned for part two (tomorrow) to see how technology companies and fleets are using the Android platform and the Internet of Things to their advantage.