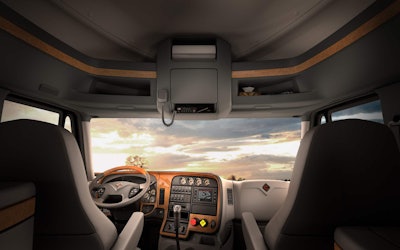 It's cliché to say that truck driving is a difficult job. But while working on the road is hard, living there may be even harder. Those realities are reflected in the current dearth of drivers coming into the industry. Both fleets and OEMs understand that using new technology to modernize truck interiors is one positive step that can be made to entice new drivers and retain experienced ones.
Since the introduction of vehicles, cab interiors and sleeper berths have evolved alongside the passenger car segment. But in the early days, driver comfort either was an afterthought or ignored outright.
By the 1970s, serious design efforts were being made to offer comfortable, stylish cab interiors, and that effort continues today, with new entertainment technology, computing devices, social media, the Internet and anti-idling regulations – along with the aforementioned driver concerns – leading a mini-revolution.
And the evolution appears likely to continue: OEMs say the cabs they are designing today soon will offer drivers unprecedented levels of connectivity with both their fleet and family, be more energy-efficient and allow drivers to work smarter and relax better once the workday is through.
"Understanding how drivers use the interiors equipped with the latest technology and meeting the latest regulations is key to developing future driving and living environments," says Jason Spence, Volvo Trucks' long-haul product marketing manager. Spence says Volvo will continue to focus on its core objectives of safety, uptime, fuel efficiency and driver productivity when designing new interiors.
"We continually review our truck interiors in order to meet the needs of all drivers," he says. Volvo's ergonomic considerations today also consider female operators when designing things such as the steering wheel adjustment mechanism and the location of truck controls close to the steering wheel for easy reach, Spence says.
More choices for drivers
Mary Aufdemberg, director of product marketing for Freightliner Trucks, says the truck maker's latest design trends are aimed at creating more choices for drivers.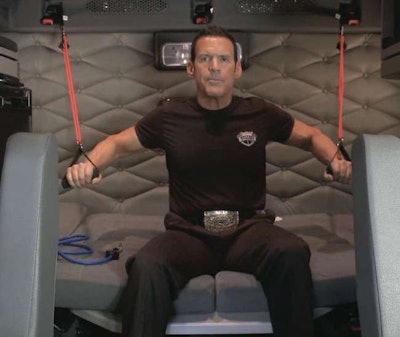 "A well-rested driver is ultimately a safer and more productive driver," Aufdemberg says. "Connectivity is a big opportunity to help keep drivers connected personally and professionally. Auxiliary power unit options that provide a quiet cab and comfortable temperatures will continue to be important, as will new options such as the integration of sleep apnea equipment into the vehicle."
Freightliner engineers also are targeting other specific areas as they map out next-generation interiors, she says. "We are reviewing designs that create a comfortable driving environment and contribute to the overall health and wellness of the driver. Many of our options such as heated and cooled seats, comfort upgrades, seating suspension systems and more are selected with the driver in mind. Navigation systems also contribute to the environment."
Other areas on Freightliner's list include safer environments with strategically placed handles, airbags, wider entries and steps for entry and egress. Aufdemberg says entertainment options also increasingly are important. "We understand that being on the road can be challenging, so we are providing the luxuries of home in the cab, such as TV options, microwaves, refrigerators, improved mattress options and inverters to plug in hotel-like amenities," she adds.
Hours-of-service rules aside, OEMs must remember that the interior cabin is a driver's home away from home. "When drivers need to rest, they want to do so in style and comfort with a minimum of hassles, including being cool in the summer and warm in the winter, all while maintaining a self-contained environment," says Phil Cary, Mack' highway segment manager.
Cary says design ingenuity and listening to customers' needs both are keys to delivering the most-desired features and their benefits. Designers and engineers must listen to the customers who often suggest the ideas that lead to design improvements, he says.
Behind the steering wheel
Truck interior design essentially falls into two categories: the driver's work environment and everything else. While a quiet comfortable sleeper berth is important, the driver's seat is where the money is made.
Chris Ito, Navistar's director of design, says the company currently is focusing on enhancing storage, accessibility to switches and controls, the feel and accuracy of the switches and material choice for "cleanability." Another focus is centralizing driver information into high-visibility displays to consolidate a variety of information to minimize driver distraction.
"This includes collision avoidance, cruise control, transmission gear selection and gauges," Ito says. "Fleets consistently tell us they want to minimize and manage driver distractions. So we have to strike a balance between important information and overkill."
Cary says today's drivers already have infotainment systems and driver information centers where they can choose the data they want to see – in other words, what is most important to them. He points to Mack's Co-Pilot Driver Information Display, which provides dozens of easy-to-read driver-selectable information options.
"Any such display must be easy to read at a glance so drivers can keep their attention on the road," he says. "Most of all, it must be kept simple. If you are forced to stare or overscan your gauges too often, your attention is not on the road where it belongs." Likewise, an overabundance of information can result in sensory overload – which Cary says is of no benefit. "The driver needs to simply operate the truck with minimal distractions using only the information to operate safely."
Spence says connectivity already is a consideration in Volvo's designs – especially as it applies to uptime and Volvo Remote Diagnostics – and will become even more important as the company responds to the future driver environment.
"Managing driver information is key to limiting driver distraction," he says. "Providing the correct information to the driver while allowing back-office applications to collect information on the trucks is part of Volvo's strategy for uptime services. We are already seeing more and more powerful computers and displays on trucks, and this trend will continue in trucking as it has in automotive."
Ito agrees that trucking's connectivity evolution is already here. "Navistar is working with 10 different telematics providers to offer the greatest amount of choice and flexibility to our customers," he says. "Continued evolution of our cabs is an area of intense focus." Other primary considerations at Navistar include electronic log adoption, the company's OnCommand Connection to link the truck directly to its service network and personal use devices.
Another possibility in the near future is a move away from traditional gauges and instrument clusters toward more animated information systems. Aufdemberg says Freightliner engineers view the truck and powertrain as one integrated system and are designing ways to provide the information that drivers need on demand and in real time in an integrated manner, rather than relying on gauges that monitor everything individually.
"Real-time information feedback to the driver is becoming more commonplace, with systems such as collision mitigation, lane departure, hard braking and real-time traffic and weather conditions, to name a few," she says. "These systems have varying levels of feedback ranging from simple visual and audible warnings to safely taking control of the vehicle."
Ito says that with an emphasis on minimizing driver distraction, the information a driver needs must be centralized with prime visibility in a single optimized display so that it is easy to see while driving.
"At Navistar, there will likely be more consolidation of displays to minimize driver distraction and an increased ability to configure what the driver sees," he says. "This will, in turn, lead to programmable driver information systems. Alerts will be programmable so drivers can prioritize what they want to see."
Another recent design trend has been the recognition that truck driving is no longer the exclusive domain of big burly men. More women are coming into the industry – a trend that is creating a new set of challenges for cab designers.
Spence says there has been a movement for some time now to advance the design of interiors and exteriors to allow women, or men who are small in stature, to operate trucks more safely.
"Things like having to reach too far to operate switches and poor visibility of gauges based on a different seating position are just a few of the ergonomic challenges that are being addressed for drivers of smaller stature," he says.
Related considerations on the vehicle's exterior include fifth wheels that require less effort to pull to unlatch and hoods that require less effort to open. "We are addressing those concerns now, and fleets will see more options for women and smaller-stature drivers in the future," Spence says.
More efficient sleepers
Sleeper design is all about maximum use of space and weight limitations. But the overall design goal is a constant: creating a comfortable living space to allow drivers to recover from a long day behind the wheel and rest well to deal with tomorrow's challenges.
It wasn't long ago that sleeper berths were exactly that: a blank space with a bunk and a bit of storage space. Such Spartan interiors won't fly today, designers say.
"Sleeper layout is something we've looked at a lot through the years – not only for its named use, but also for office use, entertainment use and lifestyle use, including exercise and other uses," Ito says. "At the end of the day, it needs to be quiet and comfortable with the ability to close out the world and get rest."
Ito says that in terms of sleeper dimensions, the industry is seeing improvements with better use of limited space, rather than just making trucks larger. Customers require different choices, from low to high roofs and several cab and sleeper lengths depending on the application and average number of days on the road. "Again, it all centers on offering choices," Ito says.
Aufdemberg says Freightliner now views cab interiors as a "work-life space" with unique requirements that must be addressed.
"A roomy cab is just the beginning," she says. "You also must consider other factors such as ergonomic styling, ample storage, noise- and vibration-reducing technologies and smart technologies. All of these play a role in building a work-life space that will ultimately benefit driver productivity."
That philosophy led the company to address driver health and fitness with its Freightliner In-Cab Training (FIT) System and FIT Step, an exercise setup designed specifically to allow drivers to work out inside the privacy of their own cabs.
Also, today's power-starved drivers will be happy to learn that their next cab interiors will offer more and vastly improved power outlets to meet the demands of smartphones and tablets.
"As drivers are becoming more connected these days, the number of outlets and the types of outlets will increase to become more convenient in cabs," Cary says. USB ports will be more prevalent throughout the cab and sleeper, while Bluetooth connectivity will be standard.
"Gone are the days where drivers need to run cables across the dash, ceiling, floor or wherever to power their portable equipment," he says. "This was dangerous not only for the wires to be a hazard, but in the way drivers sometimes tapped into an existing harness in order to gain power."
Also look for auxiliary power units to become more entrenched and integrated into vehicle designs. "We're already shifting toward APUs and battery systems and will continue to improve in those areas," Aufdemberg says.
Freightliner currently offers diesel-fired and electric APU systems that provide enough power to run most hotel-like amenities, she says. "Some of our options are optimized with Detroit engines, which work together seamlessly so that drivers don't have to worry about their battery while they are relaxing."