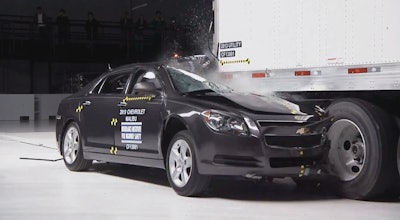 Rulemaking to consider requirements for rear impact guards and other safety strategies on single unit trucks has reached the next stage. A separate rulemaking to require the guards on trailers and semi-trailers, however, is running slightly behind its single-unit counterpart.
On June 12, the White House Office of Management and Budget received the National Highway Traffic Safety Administration's proposal to require devices to mitigate rear-end underride crashes of single unit trucks. Last July, NHTSA said it would issue an Advanced Notice of Proposed Rulemaking for rear impact guards for single unit trucks and a Notice of Proposed Rulemaking for the guards on trailers and semi-trailers.
The agency began the efforts last year after the Truck Safety Coalition petitioned to have all trucks and trailers equipped with energy-absorbing rear impact or underride guards guards. These would be mounted lower to the ground — 16 inches — with vertical supports spaced farther apart — 8 inches from the side edges.
The coalition says these guards would effectively protect car occupants from death and injury in rear impact crashes.