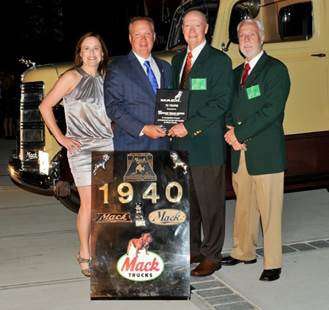 Mack dealer Shealy Truck Center of Columbia, South Carolina recently celebrated its 75th anniversary as a Mack dealer. Originally established in 1932, company founder James H. "Bo" Shealy became a Mack Trucks dealer in April 1940 and has sold Mack truck models since.
"We congratulate Shealy Truck Center for being a part of the Mack family for 75 years," said Stephen Roy, president of Mack Trucks North America. "It's a tremendous accomplishment in light of the transformation the trucking industry has experienced in the past seven-plus decades."
Friends of the dealership marked the anniversary with a celebration at the South Carolina State Museum in Columbia. Welcoming guests to the event was a restored 1940 Mack Model EG one-ton flatbed truck, a model from the same year the Shealy dealership began selling Mack models.
The Shealy family carries on a philosophy first set by Bo's brother Carl Shealy, who adapted to changes in the trucking industry by caring for the business and its customers. He also emphasized the "dignity of work," a belief he had that all employees were given the abilities needed to be productive and proud of their efforts.
"Carl knew that embracing change was the key to success," said Bruce Shealy, Carl's son and current president of the business. "But he also knew that our core values were important too. By protecting both, we've ensured our success in the past and will continue to ensure our success in the future."
Shealy Truck Center has known just three leaders throughout its history. Bo served as president until 1972, when his brother Carl took over. When Carl passed away in 1984, his sons Bruce and David assumed leadership of the business as president and vice president respectively. Today, a third generation of the Shealy family is now involved, with Bruce's daughter Keri Hogue serving as the parts and service operations manager.
"Family has always been important to our business. After 75 years, Mack Trucks isn't just a brand we sell, it's become part of our family," said Bruce Shealy. "Working together, we've adjusted to dynamic changes in the trucking industry and look forward to many more successful years."