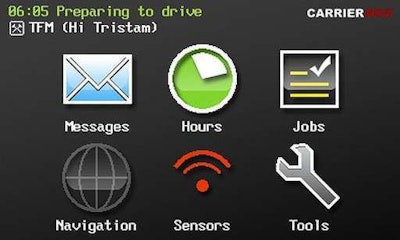 MacroPoint, creators of patented freight tracking software designed to give 3rd party visibility into load status, has integrated with CarrierWeb, a provider of real-time mobile communications, electronic logging and refrigerated telematics technology for private and for-hire fleets.
The companies say this development enables their mutual carrier, shipper and broker customers to instantly share freight tracking information tailored to their unique service requirements.
"The integration gives our customers another way to share critical load information with their customers who utilize MacroPoint to monitor load status across many different carriers in their system," said Keith O'Brien, vice president of product management and professional services at CarrierWeb. "For example, JNJ Express came to us and said they needed to provide load updates via MacroPoint to a large customer. Working with MacroPoint we integrated their tracking functionality to give them the automated information they need."
"Our customer told us we needed to enable the MacroPoint integrated load tracking solution they use to help manage shipments globally," said Joe Hilderbrand, director of operations at JNJ Express, Inc. an asset based transportation and logistics services provider headquartered in Memphis, Tenn. "We asked CarrierWeb if they could set up the integration and told them we needed to get it done quickly. Ten days after our initial integration meeting we were in final testing," Hilderbrand added.
Used with a driver's mobile phone, including flip phones, or existing in-cab ELD/GPS devices, MacroPoint's location tracking software gives third parties load status and location visibility on their shipments. With MacroPoint, brokers, 3PLs and shippers have real-time location tracking, on-time delivery monitoring, and arrival and departure notifications.
"We designed our 3rd party load tracking software to integrate with solutions that carriers, brokers and shippers are already using to manage their operations without needing additional software, and we're pleased that CarrierWeb has joined our growing list of partners," said Glynn Spangenberg, senior vice president and general manager of MacroPoint.