Trucking-related economic indicators reported in the last week show a mixed outlook:
[gttable cols=""]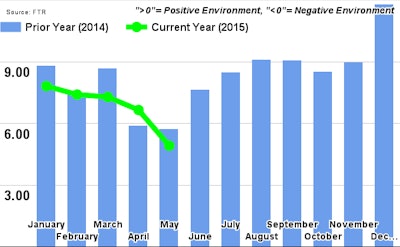 FTR reports lowest trucking conditions in three years: FTR's monthly Trucking Conditions Index for May fell 25 percent from April to a three-year low of 4.91. FTR chalks the lower reading to general softness in key areas: capacity, rates and fuel prices. Loosened capacity and lower fuel costs have put downward pressure on rates, FTR says. However, says FTR's Jonathan Starks, conditions for trucking companies "are still quite positive and indicate how well they are able to manage current headwinds."
Capacity still remains tight, though, despite its recent change, Stark says, and looming trucking regulations should continue to tighten capacity and, combined with increasing fuel and labor costs, put upward pressure on rates and the Trucking Conditions Index.[/gttable]
[gttable cols=""]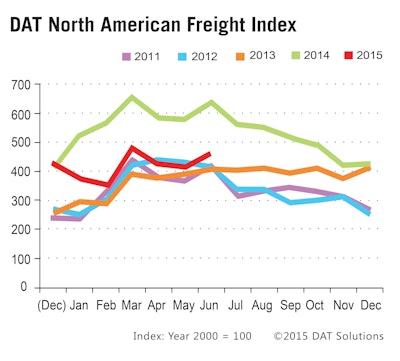 Spot market freight volume grows 9 percent in June: Freight volume on the spot market, measured by DAT's monthly North American Freight Index, rose 9 percent in June from May, DAT reported this week, driving up rates in all three major truckload segments in the month.
Reefer loads month to month grew by 6.6 percent, vans 8.1 percent and flatbed 9.7 percent.
Rate increases, however, were reversed, with reefer rates seeing the largest increase, 2.1 percent, from May. Van rates grew by 1.3 percent, and flatbed by a half-percent.[/gttable]
[gttable cols=""]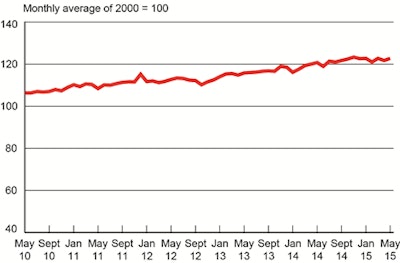 DOT reports freight growth in May: The DOT in its monthly Freight Transportation Index reported an 0.8 percent increase from April. The Index, a measure of the number of freight shipments in the month, saw the strongest growth in freight in the for-hire trucking segment. The index was also up 1.7 percent from the same month last year.[/gttable]