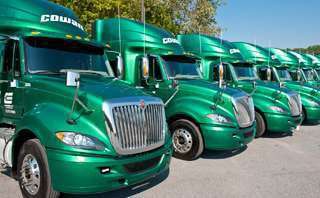 Cowan Systems is at a place where more truckload carriers want to be. Nearly all of its trucks and drivers are on dedicated routes.
"We have a commitment with a number of large shippers and do the same thing every day," says Dennis Morgan, president of the Baltimore, Md.-based company (CCJ Top 250, No. 60).
Amid a growing driver shortage, dedicated contracts are a means for shippers to shore up capacity, higher service levels and steady prices. In return, carriers like Cowan Systems get reliable lanes, schedules and revenues along with consistent pay and home time for drivers.
Dedicated services are the fastest-growing and most profitable divisions of the large, publicly traded carriers. As one example, J.B. Hunt's revenue in Dedicated Contract Services (DCS) grew five percent in the second quarter compared to the same period in 2014. Its DCS operating income increased 34 percent and the division added 413 trucks.

The downside of dedicated is not having capacity readily available to take advantage of higher rates in contract and spot markets if the economy should do really well, says Donald Broughton, trucking industry economist and managing director of Avondale Partners.
That is a tradeoff Cowan Systems is willing to make. All of its miles are already paid for, so it does not have to balance the loads and trucks in its network every day. When and where it has extra capacity, the company strategically finds backhaul opportunities to reduce shipping costs for customers and increase its bottom line.
Companies that develop software systems that carriers use for operations and accounting functions have been following trends in dedicated and other opportunistic sectors of the industry. Some of their latest tools give front-line users information to be more selective of freight to increase profitability during a time when freight volumes are strong and capacity is limited.
Pricing dedicated
As a large dedicated contract carrier, Cowan Systems has invested a lot of time and resources in its accounting systems, Morgan says. The company prepares monthly P&L statements for every division, customer, and lane. This reporting structure makes it possible to accurately price new business and catch exceptions when its assumptions do not match the realities on the ground.
"Because we are on top of it every month we know which ones work and which ones don't so we can work to fix them," he says.
Its billing process also is complex. For instance, Cowan Systems may share trucks between accounts. One group of trucks may have backhaul capacity in the dedicated lanes of another account. Its extra capacity can also be taken to the spot market.
In both instances, Cowan Systems can set up revenue share agreements with dedicated customers and reward them with the majority of its additional earnings. But working these agreements into its invoicing process "can become very complicated," he says.
The company also bills each customer differently. Some are billed with a flat rate plus fuel and accessorial charges. Others are billed from a model that separates fixed and variable costs, among other arrangements.
Cowan Systems uses TMW Suite, an enterprise dispatch and operations software from TMW Systems, to track all of the activities used in cost analysis and billing. Morgan says the software has a very flexible billing structure to handle the variation among customers, and allows users to export the activity data into spreadsheets to prepare invoices.
Cowan Systems also uses various features within TMW Suite to monitor key metrics such as miles and revenue per truck by day and by week. These key performance indicators (KPIs) are set up to give alerts when changes show up during the billing process.
"Our front line guys have a sense for what is happening day to day, but I'm not sure they have the information to alert us," he says. "That's why we do it from the invoicing side. We have KPIs attached to every bill."
Margin improvement
Tight capacity and favorable rates have increased demand for technology that makes it easier for front-line employees to make strategic decisions about load selection.
All commercial and private fleets have to make frequent, strategic decisions about customers, lanes and volume commitments, says Ben Murphy, product manager for McLeod Software. With current market conditions, Murphy encourages fleets to regularly create margin improvement plans.
The Pricing and Bid Management module for McLeod LoadMaster and PowerBroker enterprise software platforms, he says, lets asset and non-asset transportation companies quickly compare and rank their customers and loads in each lane.
The module identifies the spread in rates among customers by lane. It also shows the current market rates based on data collected from its large user group. The tool helps carriers identify opportunities and devise strategies to minimize the price spread, he says. Two common strategies are to raise rates in markets where the carrier is oversold and to shift capacity towards higher paying customers.
Perhaps one of the most advanced load selection systems is the one developed by Celadon Trucking. The company was named the 2015 CCJ Innovator of the Year in recognition of this and other efforts that transformed its customer service department.
With its proprietary Order Entry 2 (OE2) software, Celadon is able to rank each load in its large network on a scale of 1-10 with additional bonus points and "trump cards" to make the selection process easier.
The categories of OE2's scoring methodology are explained in more detail here. OE2 gives front-line users called Freight Analysts access to an instant, stack-ranked priority list of orders that arrive electronically from customers.
The software also "talks" with another freight scoring system the company uses called Load Analyzer from Manhattan Associates. One of the unique features of Load Analyzer is the recommendations it gives for customers and loads to solicit. These recommendations factor in lane commitments, profitability, service and more.
When Load Analyzer recommends a load for solicitation, and the load is won, the new order shows up in OE2 with a "trump card" to be accepted by Freight Analysts, says Marie Leapley, Celadon's vice president of customer service.
Scoring customers
Scoring loads and customers is not limited to fleets with large IT budgets. Real Time Freight offers a cloud-based transportation management software (TMS) platform that is used by shippers, brokers and small to mid-size carriers. One of the company's most recent developments is a scoring system for freight.
Real Time Freight currently rates each load in the system with a "star" scale from 0 to 4. The software automatically captures the revenues, volumes and seasonality for the customers of motor carriers to include in the score. Currently, other information used in scoring is entered manually by the carrier, says Trent Broberg, general manager.
Real Time Freight is working to create a more automated system that scores customers based on a more complete freight profile. Included in this profile would be factors that positively impact utilization like flexible appointment times and trailer pools, he says.
McLeod Software offers a Profitability Analysis module that is designed for front-line employees to use a variety of key metrics to determine, at a quick glance, the profitability for customers and loads, Murphy says. Useful metrics include profit per hour, profit per mile, and operating ratio.
TMW Systems has a product line that consists of TMW Data Warehouse, TMW Data Warehouse Explorer and Transport Analytics. With this combination, front-line users can create reports, scorecards and dashboards by accessing information from multiple places.
Data Warehouse Explorer and Transport Analytics are visual tools with virtually unlimited possibilities for creating reports to look at the profitability of loads and customers without requiring users to have any computer programming experience, says David McKinney, principal of business intelligence and optimization.
TMW Systems also has a "deep dive" network profitability application called Netwise with a unique scoring methodology for customers and loads that is based on the concept of "yield." The yield measure identifies specific areas to improve profitability based on rate, time, cost and flow for each load in a network, he says.
The amount of activities that contribute to and subtract from profitability are numerous. Increasingly, carriers are looking for technology that can give their front-line users information to make fast, strategic decisions in pricing and load selection to more quickly respond to opportunities.