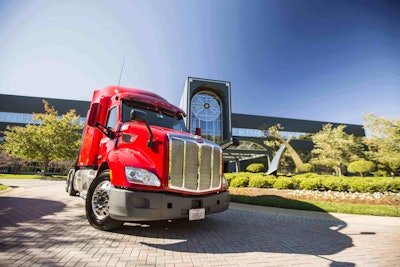 A few years ago, Bruce Odum was using social media on the weekend, marveling at the ease and simplicity of tracking activities of friends and family. "Why are we not doing this back at the office?" he wondered.
That thought served as a blueprint for new software development at the nation's largest privately-owned truckload carrier, U.S. Xpress (CCJ Top 250 No. 10). Inspired by social media, the company transformed its legacy transportation management system, named XPM, into a cutting-edge platform.
The first step in the transformation was developing "push" architecture to deliver information to users in a highly visual and prioritized workflow. The strategy is no different than Facebook using push notifications for social media updates.
Tracking business activities is much more complex than using social media, however. The volume of data in load planning, dispatching, customer service and driver management is enormous.
"You're talking hundreds of thousands of little army ants moving around," says Odum, the software applications development manager of Chattanooga, Tenn.-based U.S. Xpress. "How do you organize all of that to be informative and push out information when you really, truly need it?"
To answer that question, U.S. Xpress created a back-end messaging application and other tools that give front-line users all the real-time information they need, when they need it. Searches, queries and pressing "Ctrl + F5" to refresh their screens to find orders, track shipments, monitor drivers' hours-of-service, and more are relics of the past.
Besides developing a new push architecture, U.S. Xpress has seamlessly integrated a suite of HTML5 Web apps that serve as the user interface of XPM. The Web apps run on any device with an Internet connection and a browser. They function and look like a full-featured Windows desktop application, he says.
The menu options of these apps are arranged like Window tiles to be "fat finger" friendly for any device, he says.
"We don't care what the operating system is. If you have a device that can run a browser you can run our tool," he says.
One of the unique features in the new XPM allows users to create control centers where multiple Web apps are linked together and displayed on separate monitors to eliminate the need to scroll through menus, he says.
Load planners and customer service representatives at U.S. Xpress typically use dual monitors. On the left they can display a traditional, grid-type planning screen. On the right they can display a visual map application of trucks and loads. Any transactions on the left side are immediately updated on right side and vice versa.
"With a traditional TMS you have to load data, refresh screens and go back into multiple systems. You end up spending a lot of cycles looking for things whether you need it or not," Odum says.
The Command Center
One of the key components of the new XPM is a responsive "engine" called Command Center that runs in the background and monitors business activities to find exceptions.
The operations department of U.S. Xpress has fleet owners that oversee fleet managers that are each responsible for a different group of drivers. With its legacy XPM, fleet owners found it difficult to view the progress of their individual businesses throughout the day. It was difficult to tell if fleet managers were responding to messages from drivers in a timely manner, as one example.
Command Center also helps fleet owners distribute the work among multiple fleet managers when one is on vacation or out to lunch, for instance. A visual cue identifies who is working on what in the system.
If one fleet manager is responding to a driver message for a home time request, an "eyeball" will pop up on the screen next to a different message in the queue. This identifies the person who is working on that separate message. When the task is complete, the eyeball and the message disappears from the work queue to avoid duplicate efforts.
"This allows you to tag-team managing drivers and loads," says Jeff Seibenhener, chief information officer of U.S. Xpress. "It also gives that next-level view for a fleet owner."
No company wants employees to be using social media at work, but as U.S. Xpress has shown, taking the components of social media and applying them to modern business systems can be a valuable exception.