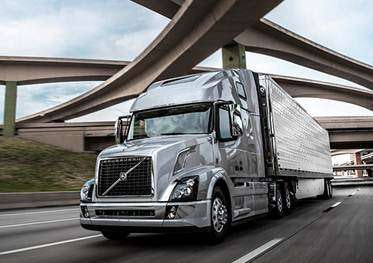 Volvo Trucks has requested an exemption from the Federal Motor Carrier Safety Administration to allow the placement of rain and ambient light detection sensors on Volvo's trucks lower in the windshield than is currently permitted by regulations.
Safety regulations currently require antennas, transponders and similar devices to be located six inches or less below the top of the windshield, outside the area swept by the wipers and outside of the driver's line of sight to the road and highway signs.
Volvo says its sensor needs to be mounted lower to function properly, and doing so will still maintain an "adequate forward facing field of view for the driver," according to the request.
According to Volvo's exemption request, being able to mount the sensors lower would allow the company to introduce the rain and ambient light detection sensor as an option on some of its trucks.
"In order for the sensor to function correctly, it must be installed in the wiper swept area of the windshield," Volvo said in its request. "This is due to the fact that an unswept portion of the windshield, which would not necessarily be kept clean and dry by the wipers, could make it difficult for the sensor to determine if the wipers are needed or not."
Volvo says the sensor is approximately 2.6 inches tall by 2.2 inches wide and "would be placed on the passenger side of the windshield, outside the driver's sight lines to all mirrors, highway signs, signals and view of the road ahead."
Volvo specifically requests the sensor be placed on the lower part of the windshield within the bottom six inches of the area swept by the wipers.
FMCSA is requesting public comment on Volvo's request, which can be made here, or by searching for Docket No. FMCSA-2015-0239 at www.regulations.gov. Comments must be received by FMCSA on or before Aug. 24.