CCJ Indicators rounds up the latest reports on trucking business indicators on rates, freight, equipment, the economy and more.
'Higher rates on the horizon': Freight rates could climb as much as 15 to 20 percent in the next few years due to new regulations forthcoming in the trucking industry and subsequent capacity constraints caused by the regulatory drag, said Mike Regan in a conference call hosted last week by Stifel Transportation & Logistics Research Group.
As Stifel wrote in its wrap-up of Regan's talk, "Regulations are sapping industry capacity, fueling the coming capacity crisis."
Those regulations, combined with the ongoing driver shortage, will send rates soaring, Regan said. Stifel also encourages carriers to prepare for the looming capacity crisis, saying the current "modest reprieve" experienced so far this year will not last.
[gt_divider type="dotted"][/gt_divider]
Where reefer's hot (and cool): Following last week's piece on DAT's report on where van loads are hot, here's a look at where the loadboard says reefer's hot, and not: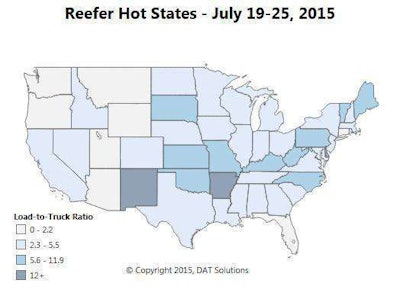 The darker the shade of blue, the higher the load-to-truck ratio. So states like Arkansas and New Mexico are seeing the most reefer loads relative to the capacity of that state's reefer fleet. However, states like North Carolina, Kentucky, West Virginia, Pennsylvania, Vermont, Maine, South Dakota, MIssouri and Oklahoma and Kansas — in the next-to-darkest shade of blue — are also seeing strong reefer loads, relative to the number of trucks available.