CCJ Indicators rounds up the latest reports on trucking business indicators on rates, freight, equipment, the economy and more.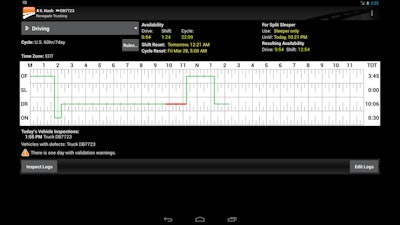 Mandates for e-logs, speed limiters could have big impacts: The looming electronic logging device mandate, which will likely take effect in late 2017, will trim some of the industry's fat, according to John Larkin of Stifel Transportation Group. Stifel spoke recently on a rail-based webinar and talked several times about trucking's driver shortage and its economy-wide impacts.
Larkin said an ELD mandate could push 3 to 5 percent of the industry's capacity off the road, as "smaller, less compliant carriers won't be able to cheat anymore to be competitive," he says.
A speed limiter mandate will cut another 2-3 percent of trucking's productivity, he said.
Analysts like Stifel, however, predict a sizable rate increase will follow the productivity dents caused by upcoming regulatory changes.
[gt_divider type="dotted"][/gt_divider]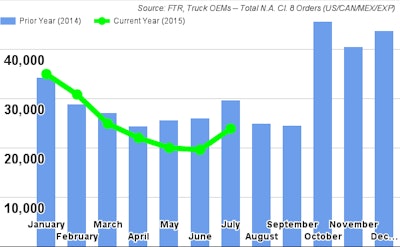 Truck orders up for first time this year: For the first time in 2015 — and following a big 2014 — Class 8 truck orders increased in July month-over-month, FTR reported this week. Truck orders were also well above expectations, FTR says, though they were still down 19 percent from the same month last year. Given the boom in truck orders in the second half of 2014, however, the last 12 months of Class 8 orders still total a very strong 356,000.
[gt_divider type="dotted"][/gt_divider]
'Truckload rates ready to rebound?': That's the question DAT Solutions poses in its most recent weekly rate update, which showed a week-to-week rate drop in all three segments in the week ended Aug. 1 for the fourth week in a row. However, freight volumes in all three segments increased in the week, which could be a sign of an impending rate increase, DAT says.
Dry van and flatbed rates fell a penny each from July 26-Aug. 1, and reefer rates fell 2 cents: