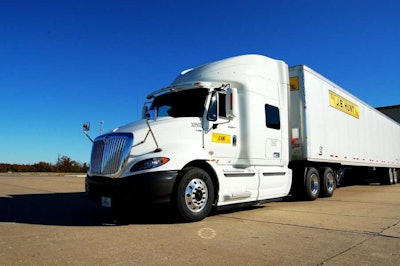 JB Hunt (No. 5 in the CCJ Top 250) has been countersued by transportation management software provider MercuryGate, who's seeking $5 million from the carrier for alleged violations of a confidentiality agreement, claims of stolen intellectual property rights and resources devoted to implementing the system for JB Hunt.
JB Hunt filed a suit last month seeking $3.1 million from MercuryGate, claiming the company failed to properly install the fleet management system software in the timeframe designated. JB Hunt said in its suit the system was "virtually useless" in its designed use to book loads, track drivers and manage logistics.
MercuryGate, however, blames complications in getting its system up and running on JB Hunt, saying the carrier "failed to coordinate or communicate effectively with the user community (drivers)" before purchasing MercuryGate's software.
MercuryGate declined a request to comment on the countersuit.
The software company says it has lost more than $5 million in its dealings with JB Hunt, as it forwent certain charges to JB Hunt and "incurred significant opportunity costs in devoting substantial resources" to the carrier, expecting the deal with the fleet to last 10-15 years, the company says in its countersuit.
JB Hunt originally purchased an off-the-shelf system, MercuryGate says, in hopes of updating its proprietary in-house fleet management software. Failure on JB Hunt's part to require its employees to switch from its proprietary software to the new software complicated implementation, MercuryGate claims in the suit, which caused its agreement with the carrier to change mid-stream.
"As the implementation continued and [JB Hunt] was unable to manage its user community, [JB Hunt] sought to take MercuryGate's know-how, including its trade secrets and intellectual property, to use in rebuilding" its proprietary software.
"After obtaining that roadmap from MercuryGate's trade secrets and intellectual property, plaintiff then improperly terminated the agreement between the parties and is actively and intentionally using MercuryGate's work product and intellectual property without permission, and for this it should be punished," the company claims in the suit.
JB Hunt breached its contract by terminating its agreement with MercuryGate, the company claims, as it "fully performed its obligations" in the deal prior to JB Hunt's choice to cut ties with the company.
Click here to read CCJ's coverage of JB Hunt's original suit against MercuryGate.