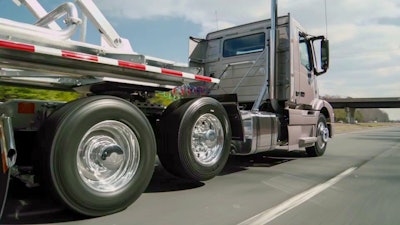 Volvo lifted the veil on its new Adaptive Loading Axle system at the Mid-America Truck Show earlier this year. And last week, on a stretch of I-84 running through the Utah-Idaho border, the company gave an in-depth look at the new 6×2 front lift axle to highlight the various safety, efficiency and fuel economy benefits it offers fleets that run diminishing loads or are forced to deadhead on a regular basis.
From a very high level, the new axle system is a pretty straightforward concept. It's based around Volvo's I-Shift automated manual transmission. I-Shift captures a wealth of vehicle data as a Volvo rolls down a highway. Including to the data you'd expect a transmission to need in order to function properly — things like vehicle speed, engine horsepower and torque, I-Shift also captures other data:
Things like vehicle mass, cargo weight, overall vehicle weight as well as pitch and yaw.
After talking with customers around the country, Volvo engineers realized they could add another electronic control module (ECM) and a hydraulic actuation system to a truck to create a fully automatic drive axle that would adjust weight and downforce on the drive axle over the course of a workday to provide maximum traction and fuel economy even as the vehicle's cargo weight and center of gravity changed as the load lightened. When the truck is heavily loaded, the system automatically balances weight between the two axles. As the load lightens the system then places more weight on the drive axle. This continues — again, without any driver input — as the load lightens. Once the truck is empty, the non-drive front axle automatically lifts up and off the road.
Moreover, Volvo realized the could design the system to also allow drivers to adjust both downward force on the drive axle, or lift the front tandem, with the mere push of a button. The result is the Adaptive Loading Axle System that will go into production next year.
The system is not for everyone. Chris Stadler, product marketing manager, regional haul, for Volvo, says the new system is specifically designed for tanker fleets, diminishing load carriers, bulk haulers and fleets that have to deadhead regularly. But because the system automatically adjusts down force as the load lightens, it ensures optimal traction and fuel economy throughout the course of a working day.
"If a driver hits snow or rain, he can quickly adjust the axle to apply maximum available downforce to the drive tires to get the best traction possible simply by pushing a three-position button on the dash," Stadler says. "The position on the switch is normal, or 'automatic' mode, While the bottom position apples equal, 50/50 available downforce to both tandems." Drivers can also quickly raise and lower the front tandem within preset vehicle speeds. The system can also be used to raise and lower the fifth wheel by 6 inches of travel to expedite trailer hitching and unhitching operations.
One Volvo customer who helped conceive and beta test the new axle is Shane Law, who owns Alpine Logistics out of Blackfoot, Idaho. Law says that his vehicles regularly deadhead, and Adaptive Loading will allow his drivers to easily pull the tag axle up. "I'll sell these Volvos with the same set of tag tires on them they came with," he notes. All told, Law says before he started beta testing the new axle, his overall vehicle cost per mile was around 35 cents. Today that figure is 10 cents, and Law says Adaptive Loading is a big part of that decrease.
Robert Brice, who co-owns Idaho Milk Transport out of Burley, Idaho, with his bother Gene, says that overall fuel economy with the new axle has increased around 0.5 percent. "We're getting 26 percent better tire life," he adds. "And our overall maintenance costs are down because if tires aren't on the road, you're automatically saving on tread life and brake wear."
Both Brice and Law opted to spec their latest Volvos with new, XE optimized drivetrains to further boost vehicle fuel economy. Adaptive Loading is fully integrated into all Volvo XE drivetrain options via the I-Shift AMT and works in conjunction with them to consistently deliver optimal fuel economy, power and torque in all road conditions.
Behind the wheel of a Volvo VNL 630 loaded with 77,500 lbs GCW, the most striking thing about Adaptive Drive is simply how smooth and quiet the ride is. The system is simple to use and, in reality, requires no driver input whatsoever in good road and weather conditions. Volvo's always delver on that front, of course. But, as Joel Morrow, with Ploger Transportation out of Bellvue, OH, noted during the discussion at Mountain West, any increase in vehicle ride, safety and stability is a plus when it comes to recruiting and keeping drivers today.
Volvo has also designed the system to give quick and easy-to-read information about the system on the dash-mounted driver information display panel and, of course, the Adaptive Loading switch is ergonomically placed within easy driver reach on left-hand side of the center dash cluster.
Volvo also designed the system with four distinct traction modes: An Enhanced Mode, with two separate settings, Start Help and Traction Help, as well as "Optimized" and "Basic" settings. And while the system is fully automatic, Morrow says his drivers played with the system for a few days and quickly and intuitively understood how it works and the benefits it offers during a workday.
Volvo has not released pricing on Adaptive Loading at this time. But the new system will be available as a spec on VNL and VNM models with GCW up to 90,000 lbs beginning next year.