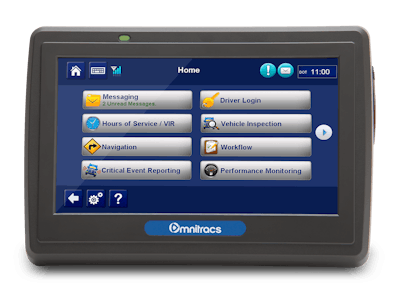 Omnitracs, a provider of fleet management systems, announced a new Professional Services suite which it describes as a compilation of tools, resources and services aimed at better serving fleets.
"Our streamlined Professional Services allow customers to tap into our most critical offerings across three comprehensive pillars—Technical, Implementation and Training Services," said Mansoor Bajowala, vice president of professional services at Omnitracs.
The following are now available for purchase from the Omnitracs Professional Services suite:
Technical Services
Data Retention Tool (DRT)—To store and access data past company retention rules. Fleets can custom-select the data they wish to manage, from Hours of Service, to Performance Monitoring, Critical Reporting and more.
Workflow Integration—Enables fleets to leverage mobile technology to guide driver actions based on company processes. To implement this service, fleets will be designated a software engineer to assist with the design and creation of a custom, mobile workflow template.
Navigation Integration—To route drivers based upon preferred routes to help maximize fleet resources. Routing configuration takes into consideration toll routes, optimized fuel and driver compliance.
Hours of Service Integration—To access to certain Hours of Service data points like a driver's current duty status and remaining hours.
Custom Reports—To eliminate the need for fleets to gather data from multiple sources and individually analyze records.
Fault Monitoring Integration—To see problems before they occur to decrease driver downtime and lower maintenance costs.
Performance Monitoring Integration—To keep a finger on the pulse of driver performance with a tool that allows fleets to compare driver performance using custom reporting.
Implementation Services
Implementation Services—Guides customers through the implementation process and offers ongoing support for all phases of technology deployment. In addition, a professional services Project Manager (PM) is assigned to act as a single point-of-contact.
Professional Services Consulting—Provides fleets with dedicated business and/or technical SMEs who understand industry benchmarks, best practices and how to best navigate and leverage Omnitracs' system capabilities.
Training
Virtual Support—In order for fleets to better educate drivers, dispatchers, driver managers, compliance officers and transportation staff, Omnitracs offers a menu of services, including Virtual Webinars, Virtual "Train the Trainer" sessions for drivers and a Virtual Learning Lab.
Onsite Installer Training—Designed especially for all Omnitracs' Mobile Computing Platform (MCP) units, this service gives installers the tools and resources they need to install a MCP50, MCP110 or MCP200 unit correctly and efficiently.
Onsite Custom Training—Allows fleets to design specialized training events for transportation office staff to learn Omnitracs' products.