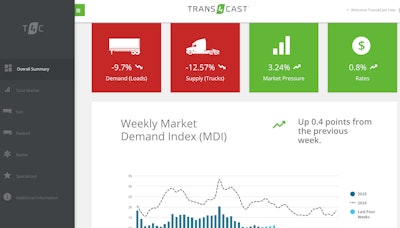 Truckstop.com and FTR this week unveiled a "completely reinvented" version of its weekly Trans4Cast report. The announcement came at FTR's Transportation Conference taking place this week in Indianapolis, Ind. And through the end of this month, Truckstop.com is offering a free preview of the report at Trans4Cast.com.
The weekly report offers analysis of spot market conditions and rates. Trans4Cast is joint venture between Truckstop.com, who provides the data for the report, and FTR, who provides the analysis.
"The reinvented Trans4Cast provides a deeper dive into the spot marketplace," said Scott Moscrip, Truckstop.com's CEO. "Freight professionals are now able to see information that's more relevant to their business, viewing spot market data by freight equipment type and region."
The new Trans4Cast features regional "heat maps," showcasing hot spots across the nation, both in terms of rates and the movement of freight. In addition to historical trending, Trans4Cast will also feature commentary and freight forecasting provided by FTR, a first in the market.