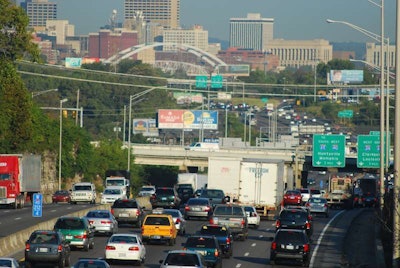 A Congressional move to allow 91,000-pound trucks on U.S. highways would do more to hurt the trucking industry's productivity than help it, says the Truckload Carriers Association, who recently penned a letter to Rep. Reid Ribble regarding his recently proposed legislation to give states the option to allow heavier trucks within their borders.
The SAFE Trucking Act, as Ribble named his bill, would carry with it expensive trailer retorfitting costs, more expensive tractors and trailers, lower fuel economy and higher maintenance spending, TCA writes in its letter. "While this provision attempts to improve trucking productivity on our highways, it clearly would only benefit a minority of the industry," TCA writes in its letter, which is signed by the Chairman Keith Tuttle and policy committee chair Jim Towery.
When examining the costs of retrofitting trucks and trailers with an extra axle and other equipment to run 91,000 pounds, equipment upgrades could cost up to $25,000 per tractor-trailer, TCA writes, which would "yield little to no return" for a large majority of U.S. carriers. Carriers likely wouldn't see rate increases with 91,000-pound loads, TCA says in its letter, but all carriers would face "market pressure" to equip their entire fleets with the necessary upgrades to haul heavier loads.
"TCA urges you to reconsider this proposal and find a freight productivity solution that will help to support all segments of an industry that has proven to be the backbone of the U.S. economy," TCA says.
Likewise, Werner COO Derek Leathers, speaking at FTR's annual Transportation Conference earlier this month, echoed TCA's sentiment, saying even at a giant fleet like Werner, having the ability to haul 91,000-pound loads would only benefit 25 percent of the carrier's business.
"If I add a third axle, my mpg gets worse, my maintenance costs go up," he said. "Negative things happen to three-quarters of my customer base [to benefit] the other quarter. You can't make a customer argument for it, and you can't make an economic argument for it."
Ribble, however, when introducing the legislation, said increasing weight limits in the U.S. would reduce congestion, boost highway safety and help U.S. freight transportation be more efficient.
The American Trucking Associations generally supports increased size and weight limits too.
Also, speaking last month at the Commercial Vehicle Outlook seminar in Dallas last month, professor John Woodruffe said the U.S.'s limits on truck size and weight put it at a disadvantage globally and cost the industry and the economy about $16 billion a year in congestion, decreased efficiency and greater greenhouse gas emissions.