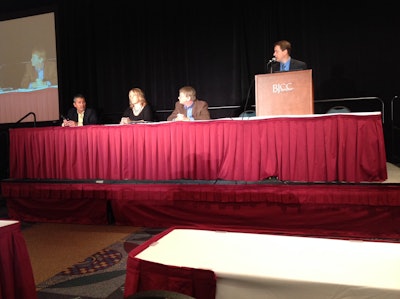 When the driver turnover rate at Milan Supply Chain Solutions surpassed 100 percent this year, management analyzed its data to understand why.
In July, 2015, its data showed that 75 percent of terminated drivers were not married; 17 percent were re-hires; and nearly 88 percent had gaps in their employment of six months, on average, in the past three years.
David Dallas, senior vice president of the 350-truck carrier based in Jackson, Tenn., shared these findings for a panel discussion on driver recruiting and retention at the McLeod Software user conference in Birmingham, Ala., on Oct. 6.
Milan Supply Chain Solutions changed its hiring practices after this analysis in an effort to get turnover down to 40 percent or less, he said. Knowing that engaging the spouse is important to retention, the company now spends more time explaining health insurance and other benefits of interest to drivers and their families, he said.
As for re-hires (drivers it hires a second time), Milan now funnels them through safety, operations and human resource departments to get additional screening before making hiring decisions.
The company also is more selective of drivers with employment gaps, particularly those who come through its driving school. Enforcing this policy has been difficult, however.
"We all have the emotion of 'how we are trying to help people?'" he says. When this policy was relaxed, "the statistics showed us again that they didn't last."
Panelists shared other insights into what they see in the driver market, which by all accounts has become more difficult than ever.
Interstate Distributor Co., a large dry van and refrigerated truckload carrier with headquarters in Tacoma, Wash., has noticed that drivers who come in through referrals stick around longer, said Paul Simmons, chief operating officer.
Decker Truck Line, a 700-truck refrigerated and flatbed carrier based in Ft. Dodge, Iowa, sees higher turnover for drivers it recruits from training schools. New drivers also have more accidents, said Jennifer Brim, director of fleet management.
Decker has shifted away from recruiting drivers from schools but then reverted back due to the labor situation. The company now requires that drivers have at least one year of experience and offers training to bridge the gap.
Below is the panel's take on other areas of interest:
1. Setting expectations
The panel agreed that setting expectations with drivers is critical in the recruiting process. All spokespersons said they can better meet expectations by having a variety of career options that include over-the-road, dedicated and team operations. They also stressed developing personal relationships with drivers and keeping their pay, mileage and home-time commitments.
"It really starts with the fleet manager and driver relationship," said Simmons, who went on to say that driver retention is not just a fleet manager's responsibility. Every interaction is an opportunity to build trust with drivers. How the company sells capacity, how it plans loads and processes payroll, and more "really becomes a one team event around driver retention."
2. Streamlining orientation
When drivers are scheduled to attend orientation meetings at Decker Truck Line, the company's president makes a personal welcome call, Brim said. A welcome kit awaits drivers in their hotel room prior to orientation meetings. It brings drivers in by bus, rental car and airplane — all paid for by the company in advance.
After orientation, drivers get another welcome kit with a new tractor assignment. Decker Truck Line has two full-time "driver services" staff members that help resolve any issues that drivers may have during their employment, she added.
Milan Supply Chain Solutions has improved its orientation experience by reducing time spent in meetings that used to took 2.5 days. "Drivers were relatively bored," Dallas said. Drivers can now complete training online before they arrive to spend one day at the office for orientation.
"This helps them earn money and get back on the road," he said. All three panelists said their companies pay drivers about $400 for attending orientation training meetings.
3. Keeping commitments
Every month, executives at Milan Supply Chain Solutions talk to drivers individually about their performance and ask what they could do better as a company. A recent issue that surfaced was detention at shippers' docks. Many drivers, especially those who are new to the industry, are expecting to be loaded or unloaded within two hours of arrival, Dallas said.
Milan uses McLeod Software's detention module to immediately notify customers when assets and drivers are delayed. The software enables management to notify drivers within 24 hours of a detention event if they will be compensated extra for that particular load.
"In the past it took a week or so before (detention pay) hit their check. There was a lot of discontent," he said.
Another way Milan Supply Chain Solutions uses its McLeod LoadMaster system is to track drivers' mileage every week versus its commitments. Tracking this data is helpful to coach drivers on what they themselves need to do to reach their goals by changing their schedules and more.
"This helps the relationship with drivers not be antagonistic," Dallas said.
Decker Truck Line has drivers fill out an expectation sheet during orientation meetings. Drivers discuss home time, mileage and other expectations with operations and fleet managers before the first dispatch, Brim said. The company keeps a scorecard on driver managers and drivers for key areas of performance and driver retention, she said.
4. Career path
The panel also discussed career options for drivers that suit individual needs. Interstate Distributor has a career progression program that includes an opportunity for drivers to earn extra money by recruiting and training drivers themselves, such as a family member or friend, to earn more money as a team operation.
All three panelists said that growing dedicated operations is a focus for their companies to offer better driving jobs. Milan has also been successful this year by using slip-seat operations in its traditional over-the-road business to create more consistent routes for drivers, Dallas said.
The panel did not delve into driver pay, though Dallas did mention a significant change. Drivers have the same number of paid vacation days that office staff have which increase with tenure. The company has also removed its cap on drivers' mileage pay.
"Every year that a driver stays, he can earn more and more money for as long as he wishes to stay with us," he said.