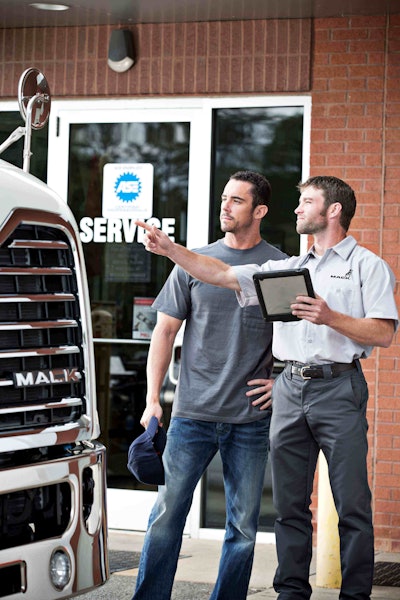 During a press conference at the 2015 American Trucking Associations Management Conference and Exhibition in Philadelphia, Mack Trucks North America announced its new Mack Certified Uptime Centers, a dealer service certification with a focus maximizing customer service and uptime. Roy said the new program represents a paradigm shift in dealer service throughput, calling it a process change rather than just making improvements.
"This certification goes beyond just improving diagnostic times," said Stephen Roy, president of Mack Trucks North America. "We're increasing customer uptime by changing our approach to the service process, ensuring our customers' trucks are diagnosed and repaired efficiently and returned back to them as quickly as possible."
Mack Certified Uptime will standardize workflows and service processes to allow faster and more efficient service and repair. The revisions will also offer more transparent information to the customer, helping them to make quicker decisions for their business.
Mack Certified Uptime Centers will feature "uptime bays" reserved specifically for trucks with service and repair tasks requiring less than four hours of work. Customers with vehicles needing a quick repair will be rapidly diagnosed, serviced and returned to work, increasing efficiency at the dealership and improving a customer's ROI.
Citing an industry average of four days of downtime and 3.5 hours of repair time, David Pardue, Mack's vice president of aftermarket business development said the Mack Certified Uptime Center approach will speed turnaround by turning the antiquated approach into a real-time informed decision based on estimated repair time.
"Mack Certified Uptime Centers will standardize workflow and allow dealers quicker repair and transparency to customers," said Pardue. "It changes the approach by updating processes so trucks are diagnosed and repaired more efficiently. Dedicated Uptime bays for trucks requiring less than four hours of service does away with the old 'first come, first serve' dealer repair model."
Mack is currently in a pilot program with 21 dealer locations for the Mack Certified Uptime Centers, and says the program will begin rollout through participating dealers in its network throughout 2016.
Mack said it is also making a push to improve the customer experience throughout its dealer network with 420 service points in North America. Since 2010, Mack dealers have invested $400 million in upgrades to facilities, training and service centers. The company also said its service network has seen a 162 percent increase in Mack Master Technicians and a 62 percent increase in hours available for service at service locations in that same time.
In other news, Roy said the company has delivered more than 16,000 trucks year-to-date through August, a 10-percent increase from 2014.
Mack also announced that since making its mDrive automated manual transmission standard equipment on Mack Pinnacles in 2014, mDrive penetration in Pinnacle axle back models has reached 70 percent and is now the dominant transmission choice in the Pinnacle axle forward models.
"The growth in mDrive is about performance- fuel economy and improving fatigue and safety for drivers and is part of our entire integration strategy," said Roy.