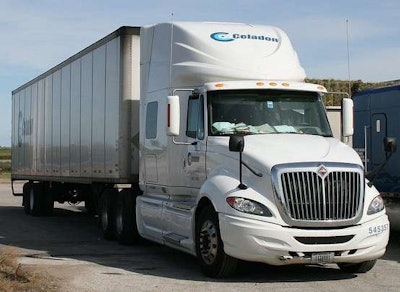 Celadon Trucking (CCJ Top 250 No. 35) hopes a new data-driven driver scorecard and a guaranteed pay program will help improve driver performance and attract and retain quality drivers, said Matt Douglass, Celadon vice president of operations, during a presentation at last week's CCJ Fall Symposium in Scottsdale, Ariz.
The driver performance scorecard measures drivers based on three metrics:
Service, which is not yet live, will measure on-time pickups and deliveries as long as they are within the driver's control. Celadon uses geofences around shippers to know when a driver arrives, Douglass explained. "Our main goal is to drive utilization and allow drivers to earn additional money."
Compliance includes idling and fuel purchases. Idling is seasonally adjusted, and all trucks have auxiliary power units, Douglass said. Celadon uses Manhattan Fuel & Route software to measure fuel compliance. "If a driver fuels at another location, we first check to make sure there wasn't a problem such as he was stuck in traffic," he said. Out-of-route will be added next year using ALK in-cab navigation, he said.
Availability measures load acceptance, whether drivers are available to run freight if they have the hours, and time lost. Load refusals are not an instant driver failure, Douglass said. That decision comes from dispatch after investigating the reason for the refusal. Drivers have one hour to accept a load through either a verbal, Celadon's Fleetwire driver app or macro confirmation. "The expectation is that drivers should be available and ready to run," taking into account necessities such as doing laundry, Douglass said.
Drivers have complete visibility into the program, which includes a rebuttal process that allows them to give reasons for negative events that impact their scores. At the time of an event, the driver receives a message explaining the situation. He has one week to reply with why he feels the negative event is incorrect. An unbiased team reviews all rebuttals and either accepts or rejects them.
The driver scorecard is key to Celadon's new WageLock guaranteed weekly pay structure and bonus program. The program allows company drivers whose driver scorecard puts them in the top two tiers for the week to "lock in" up to $1,000 per week, regardless of how many miles they drive.
The program boosts pay for drivers who may have issues that affect their miles, such as layovers, maintenance problems and running short loads during the week.
"For tier 1 and tier 2 drivers who fall below a weekly payout threshold, this pulls them up to give consistency," Douglass said.
All company drivers who are paid by the mile are eligible to participate with some exclusions such as switching between divisions and number of vacation days taken in a given week. Drivers must also scan in their paperwork from the previous trips in that week. "The goal is to get them to get their paperwork in quickly," Douglass said.
A technology leader, Celadon Trucking was recognized with CCJ's 2015 Innovator of the Year for developing technology to score customers and loads in its network and for creating a career path in its customer service department. The company sees its latest data-driven solutions as a way to make drivers, especially those just coming out of its new driver school, successful and to help it compete in an increasingly tight driver market, Douglass said.
"We like to fully utilize technology," he said. "We're a technology company that happens to run trucks."