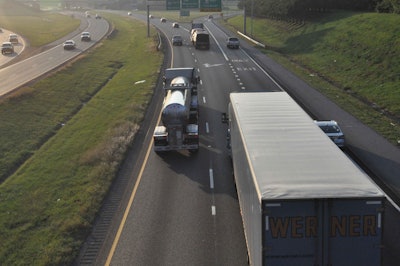 The final version of a long-term highway bill produced this week by a joint Congressional committee includes the industry-hoped-for removal from public view major components of the DOT's Compliance, Safety, Accountability carrier scoring and ranking program.
The bill, dubbed the FAST Act, also requires FMCSA to fix the program prior to making the scores public again, just as the original drafts passed by each chamber of Congress earlier this year dictated.
CSA reform is one of the bill's major highlights for the trucking industry, either a close first or second to Congress simply producing the bill and giving itself the chance to pass the longest highway bill in more than a decade. Both chambers of Congress signaled after the bill's introduction they plan to vote this week on the bill in hopes of getting it to the White House by Monday.
Here's a look at what else changed in the updated version of the bill, which now spans about 1,300 pages:
In:
CSA reform: As noted above, the bill removes from public view the bulk of the Compliance, Safety, Accountability system's Safety Measurement System, the heart of the CSA program. The legislation removes carriers' percentile rankings in the seven SMS BASICs and requires FMCSA and the Government Accountability Office to identify the program's faults, develop a plan to fix them and then implement those fixes before the system can go live again.
Congress in the bill directs FMCSA to study issues like carriers' crash risk and its correlation to CSA scores, CSA's rankings methodology, accuracy of the CSA data, incorporating crash fault accountability and how the public uses CSA scores in making business decisions or overall safety determinations of carriers. The bill requires the report to be produced within 18 months of the bill becoming law.
Lawmakers also in the bill included language to bar FMCSA from continuing to use the system and its data to make safety determinations about carriers. Until FMCSA can implement a so-called "corrective action plan," the CSA program will remain dormant.
Driver drug testing reform: The bill allows carriers to drug test drivers via hair test in lieu of a urine test, but not until the federal Department of Health and Human Services establishes guidelines for hair testing. The bill requires DHHS to produce the guidelines within a year of the bill's enactment.
Detention time study: The bill requires FMCSA to study and produce a report on how truck driver detention at shippers and receivers impacts drivers, their schedules, their pay and impedance of flow of U.S. freight.
Insurance rule study: Likewise, Congress directs FMCSA to further study carrier liability insurance minimums and before initiating a rule to raise them. The provision essentially adds another hurdle to FMCSA's potential work to increase the amount of liability insurance required to be held by motor carriers, currently at $750,000 for general freight haulers.
Changes to FMCSA rulemaking process: In producing new regulations, FMCSA must now also include a "regulatory impact analysis," as the bill calls it, for each rule, based on things like effects on carriers of different sizes and applications. It must also use data "representative of commercial motor vehicle operators or motor carriers, or both, that will be impacted by the final rule" and to "formulate its estimates and findings based on the best available science."
Military veterans in the trucking industry: The bill requires FMCSA to change rules governing CDL issuance to allow military veterans with experience operating equipment comparable to a heavy-duty truck to more easily obtain a civilian truck operator job. The changes would let military driving experience count toward skills and driving tests. It also would allow military vets to receive their medical certification from Veterans Affairs doctors rather than those in FMCSA's National Registry of Medical Examiners.
Windshield-mounted tech: The bill makes a small change to federal regulations on windshield-mounted devices, coming in response to growing interest among carriers and drivers in windshielded-mounted cameras and more.
Out:
Under-21 truckers: Though both the preliminary House and Senate bills brought to the bicameral conference committee included measures to let states to enter into compacts with one another to allow 18-21-year-old CDL holders to cross state lines, the final version of the bill does not. It instead sets up a controlled study, to be performed by FMCSA, that will collect data on under-21 truckers who are former members of the military or reserves. The agency will study the "benefits and safety impacts," per the bill, of allowing such truckers to drive in interstate commerce.
Size/weight reform: No measures to change truck size and weight standards in the U.S. made it in the bill. Some lawmakers and lobbying groups pushed for raising federal weight limits to 91,000 and increasing maximum-allowed length of tandem trailers to 33 feet from the current 28-foot max.
'Carrier hiring standards': The House highway bill sought to put in place criteria that brokers, shippers and others would have been encouraged to use when making carrier hiring decisions. One of the criterium — which called for shippers and brokers to hire only carriers with "Satisfactory" safety ratings — could have wreaked havoc on small carriers and owner-operators, said opponents of the measure. Many small trucking companies are "Unrated" by FMCSA, more than 400,000, per data from RigDig Business Intelligence. The final version of the highway bill, however, does not include the "hiring standards" provision.
Rebutting court ruling on state labor laws for drivers: An amendment brought from the House would have "clarified Congressional intent," according to its sponsor Rep. Jeff Denham (R-Calif.), of a 1994 federal transportation act governing movement of the country's freight.
The Federal Aviation Administration Authorization Act forbid states from enacting laws that interfered with prices, routes or service of motor carriers. But a court decision made by a federal appellate court last year said that a California law mandating meal and rest breaks for workers in the state superseded FAAAA. The Denham amendment would have more directly spelled out that states cannot regulate truckers who fall under federal hours-of-service regulations. Opponents of the amendment, however, said it could have derailed efforts by unions and other trucker advocacy groups to reform things like driver pay and excessive detention time.
Tolling changes: Portions of the Senate's original bill would have allowed tolling on existing Interstate lanes and use of some toll monies for use outside of the U.S. Interstate system, currently a closed loop. The FAST Act, however, killed that provision.