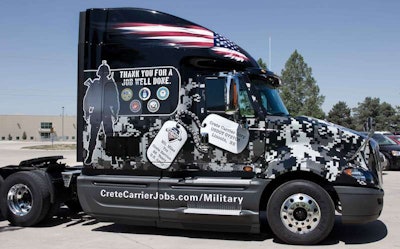 The Federal Motor Carrier Safety Administration is looking to make it easier for current and former military personnel to obtain a commercial learner's permit or CDL with two regulatory changes.
In a Notice of Proposed Rulemaking to be published in the Federal Register on Wednesday, March 16, FMCSA proposes to extend the time period for applying for a skills test waiver from 90 days to 1 year after leaving a military position requiring the operation of a commercial vehicle.
FMCSA said in a report last year that more than 10,000 former military personnel have taken advantage of the 90-day skills test waiver since it was introduced in May 2011, but added that extending that period to a year would ease the transition of veterans from military to civilian life.
The rulemaking set for issuance this week would also allow states to accept and administer CLP or CDL written and skills tests to active-duty military personnel stationed in that state. States that accept and administer these tests would be required to electronically send the results to the home state of the applicant, and the home state would then issue the CDL or CLP based on the results.
FMCSA said many active-duty military personnel want to obtain a CDL while still in the military, but are stationed outside of their home state. The agency said it believes this rulemaking would "simplify the task of obtaining a CDL without jeopardizing any benefits associated with a service member's official state of domicile, or the single-domicile/single issuer concept that has been essential to the CDL program since the beginning."
FMCSA says the rule also permits CMV drivers in the military to apply for CLPs and CDLs "without running the risk of inadvertently changing their state of domicile."
The Moving Ahead for Progress in the 21st Century Act (MAP-21), passed in 2012, required FMCSA to perform a study that assessed federal and state regulatory, economic and administrative challenges faced by members and former members of the military who operated commercial vehicles while in service in obtaining a commercial license.
Additionally, the FAST Act, passed in December, requires FMCSA to (1) exempt certain ex-military from the CDL skills test if they had CMV driving experience in the military, (2) extend the skills test waiver to one year and (3) credit the CMV training military drivers receive in the military toward applicable CDL training and knowledge requirements. This proposed rule would take care of the first two of the three requirements. FMCSA said the third requirement will need additional rulemaking.
FMCSA said this NPRM "would ease the current burdens on military personnel applying for CLPs and CDLs."
The agency is seeking public comment on the proposed rule, which can be made by searching Docket No. FMCSA-2016-0051 at www.regulations.gov when it's published Wednesday.