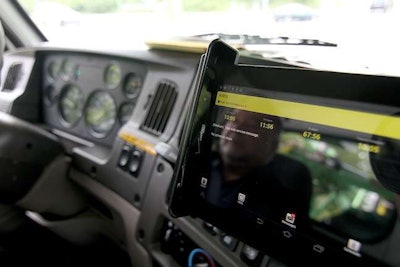 The Federal Motor Carrier Safety Administration has scheduled the final version of its rule to mandate electronic logging devices for truck operators to be published Wednesday, Dec. 16. Carriers and drivers will have two years from that publication date to comply — Dec. 16, 2017.
The agency announced the rule early Thursday morning, and it was filed Friday morning in its pre-publication form in the public inspection site of the Federal Register, denoting a publication date of Dec. 16.
The rule will require U.S. truck drivers to use electronic logging devices to track and log their records of duty status. FMCSA released a 500-page document this week detailing the new rule's stipulations, the changes it made from the the proposed version and responses to industry groups and individuals who submitted public comments during the proposed rule's comment period held last year.
The mandate, in addition to requiring use of the devices, spells out the minimum hardware requirements for compliant devices, supporting documentation still needed to be kept by drivers and carriers and strategies to prevent carriers from using the devices to interrupt drivers' off-duty periods and other measures deemed "driver harassment."
Click here for more details on the rule, published Thursday by CCJ.
Stay tuned in the coming days for more details on the rule and and what it means for carriers and the industry.