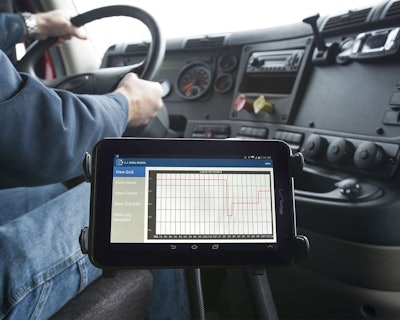 A rule to mandate the use of electronic logging devices was announced by the Federal Motor Carrier Safety Administration on Dec. 10.
Trucking industry organizations and stakeholders are commenting on the rule that will require ELDs by December 2017, with some offering favorable feedback and others questioning the rule's necessity.
American Trucking Associations: ATA said it's pleased with the release of the rule.
"Today is truly a historic day for trucking," said ATA President and CEO Bill Graves. "This regulation will change the trucking industry – for the better – forever. An already safe and efficient industry will get more so with the aid of this proven technology."
ATA said an ELD requirement has been a top priority of the association since 2010.
"ATA looks forward to working closely with FMCSA, state law enforcement agencies, as well as our members and industry partners during the two-year transition to full implementation of this safety technology," said Dave Osiecki, ATA executive vice president and chief of national advocacy.
Owner-Operator Independent Drivers Association:
OOIDA Vice President Todd Spencer questioned whether ELDs will improve highway safety.
"Do electronic logging devices truly improve highway safety? Nothing has been presented to indicate that, in fact, that is true. In fact, we see the opposite," Spencer said. "Onboard recorders are all about productivity and enhancing productivity, which basically puts those in constant conflict with the legitimate safety needs of drivers."
The group also said it questions whether the devices, as detailed in FMCSA's rule, can track hours-of-service compliance:
"We are reviewing the rule's details and will be interested to learn the specifics on how the agency intends to deal with the issue of harassment," OOIDA said in a statement. "We know of no technology that automatically tracks a driver's record of duty status, and so ELDs will not be able to verify compliance with hours of service regulations. ELDs can only track movement of a truck and approximate location, not the work status of a driver which requires input from the driver."
Below are comments from others around the trucking industry. This post will be updated as more comments from industry stakeholders become available.
Arkansas Trucking Association: This state trucking association echoed ATA, calling the ELD mandate historic for the industry.
"Today is truly a historic day for trucking," said Arkansas Trucking Association President Shannon Newton. "This may be the most impactful change to our industry since deregulation. Adopting this proven technology demonstrates to the motoring public trucking's commitment to safety and compliance."
The Arkansas Trucking Association said it has supported the use of ELDs since 1999.
Truck Renting and Leasing Association: TRALA said it was disappointed that a rental vehicle exception wasn't included in the final rule. The association's key concerns focused on trucks that could be rented to multiple drivers or companies with varying obligations to comply with logging rules.
TRALA added that most of its member customers would be exempt from the rule because of 100- and 150-mile radius exemptions, but a certain percentage are mandated by HOS regulations. Because of this, the ELD rule could require every truck in a company's rental fleet to be retrofitted and equipped with an ELD to remain compliant, the group said.
"While TRALA understands the desire to make trucking as safe and transparent as possible, there are still questions that remain regarding the technology needed and the availability of that technology to satisfy our concerns given the unique nature of renting," said TRALA President and CEO Jake Jacoby. "TRALA will continue to work closely with its members, FMCSA and the telematics companies that are working now on developing the correct technology to ensure rental trucks are not put at a disadvantage compared to other vehicles."
Truckload Carriers Association: TCA applauded FMCSA's efforts on the rule, stating it will make hours-of-service compliance easier.
"As a rule that will affect approximately 3 million of our nation's truck drivers, TCA applauds the efforts of the FMCSA in promulgating an electronic logging device regulation that aids in alleviating some of the burdens regarding supporting documents, eases compliance with the hours-of-service regulations and furthers the efforts of the agency in the fight against driver coercion and harassment," TCA said in a statement. "Clearly, the rule will relieve carriers and drivers of furnishing supporting documents pertaining to on-duty/driving time and outlines the performance specs for 'FMCSA-compliant' ELDs, which will aid carriers when finding a device that is practical for their fleets."