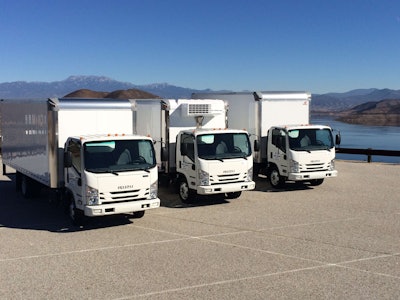 Isuzu has added Class 4 brawn and performance to its popular medium-duty cabover truck stable at Class 3 pricing and operating costs.
The new truck is a base model NPR cabover, able to accommodate a 20-foot body and weighing in at 13,000 GVW. According to Mike Kennedy, Isuzu's national sales training manager, the NPR, like all Isuzu trucks, was designed with lowest cost of operation foremost in mind. That thinking led to the new NPR design, which cracks into the lower end of Class 4, complimenting the heavier, 14,500 pound GVW, NPR HD and the also-new 16,000 pound NPR XD model, which debuted earlier this year. Isuzu's medium-duty lineup tops out with the NRR model, which checks in at 19,500 pounds GVW.
Building on its low-cost-of-operation theme, Isuzu engineers elected to spec the new NPR with a 3-liter, four-cylinder diesel putting out 150 horsepower and 282 pound-feet of torque. Isuzu began spec'ing lower displacement engines into its medium-duty line a few years back as fuel prices rose and fleets became more concerned about fuel economy. The NPR's powertrain, complimented by a capable, 6-speed Aisin automatic transmission, builds on that trend.
"For many years, U.S. were obsessed with horsepower, and over-spec'd trucks were commonplace," Kennedy explains. "We've proven that a properly configured truck with a properly spec'd powertrain can deliver more than enough power and capacity to work hard while delivering low cost of operation. We have trucks in New York City fleets today, for example, running at 6 cents per cost of mile. We've proven that 'tough and durable' doesn't have to be at odds with 'economical and efficient.'"
Isuzu offered CCJ an exclusive test drive of the new NPR, routing out of its Orange County, Calif. headquarters, on a 200-plus mile run that included interstates, mountains and urban driving.
At highway speeds, it was quickly obvious that Isuzu has made numerous upgrades to its cabover lineup. The steering system has been tightened up; even at 70 mph, the NPR held a dedicated line without wandering around in its lane. Of course, at low speeds and in tight maneuvering conditions, that same steering system works so well that Isuzus are actually great fun to whip around in tight spaces: These trucks have always offered insanely-great wheel cuts, turning radiuses combined with unsurpassed forward and side visibility. Late in the day, on a tight oceanfront road, I was able to make a u-turn in the NPR in one sweep, without so much as brushing the curb on the opposite side of the lane.
Vehicle ride is outstanding, and ambient noise levels inside the cab have been cut down considerably as well. All door and window seals are extremely tight with absolutely no wind noise penetrating into the cab.
Kennedy drove his point home concerning the practicality of low-displacement diesels during a prolonged drive up a twisting, turning mountain road on the edge of the desert east of L.A. The NPR gamely cruised to the top with plenty of reserve throttle available if I needed.
Isuzus have always been practical, no-frills trucks, but its engineers have added some useful extras: safe and secure steps and grab-handles are paired with cab doors that open a full 90 degrees to insure safe entry and exit in and out of the truck. A tilt/telescopic steering wheel is standard, as is a center-seat-mounted fold-down work station and a new, Multi-Information Driver Display screen in the center dash cluster. Additionally, drivers can now adjust both main mirrors, as well as their convex mirrors from the driver's seat with two electronic controls situated up and to their left near the A-pillar.
Overall, the new NRP builds on several established Isuzu design themes with the capability and practicality its customers have come to expect. At the same time, it's easy to see the company is continuously refining its vehicles to insure they offer the latest in technology, comfort and safety that medium-duty fleets today depend on to get their work done.