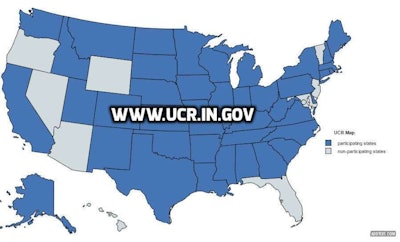 Enforcement of the Unified Carrier Registration Agreement has been delayed until Feb. 1, according to an inspection bulletin released this week by the Commercial Vehicle Safety Alliance. Enforcement was originally set to begin Jan. 1.
The delay gives motor carriers, brokers, freight forwarders and leasing companies an extra month to file their registration fees for the 2016 registration year.
CVSA said the Federal Motor Carrier Safety Administration added a violation code into the Aspen software to to indicate that a carrier isn't in compliance with the UCR. After Feb. 1, enforcement will only occur after online or telephonic verification that the company failed to register for 2016. Because of the online system, no UCR credential is required to be carried in the CMV.
Registration can be completed here.
There are two groups who aren't subject to the UCR:
Purely intrastate carriers that don't handle interstate/international freight or make interstate/international movements, except when a state has adopted the UCR program for intrastate carriers
Private motor carriers of passengers engaged in the interstate/international transportation of passengers that's not available to the public at large
There are 41 states that participate in the UCR program, which can be seen at the UCR website.