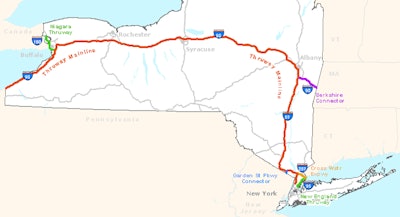 Truckers using the New York State Thruway (I-90 & I-87) could see savings on tolls for the next several years if a plan proposed by the governor is approved by the legislature this spring.
New York Gov. Andrew Cuomo is proposing tolls on the 496-mile-long Thruway be frozen until 2020, and that $22 billion be spent to repair bridges and highways in the state.
Cuomo made the announcement Wednesday (Jan. 6) in Syracuse as part of a preview of his upcoming state of the state and budget addresses.
Under the plan, some truckers in New York State could see an annual savings of up to $1,872.
New York State Motor Truck Association (NYSMTA) President Kendra Hems said the prospect of tolls not going up comes as welcome news for her organization's members.
"Knowing that there will not be an increase in tolls for the next four years is a relief for the trucking industry," said Hems. "Additionally, providing a tax break to smaller carriers using the Thruway is a welcome savings. Tolls on the Thruway have been a major burden for many years and we appreciate the Governor's acknowledgement of that."
Cuomo proposes using tax credits to cut tolls in half for the New York residents and businesses who use the Thruway most often, according to a statement from the governor. The toll reduction is said to benefit nearly 1 million passenger, business and farm vehicles.
Tax credits would apply to:
Passenger vehicle owners using E-ZPass and paying $50 or more in annual tolls. The governor said 911,743 drivers would benefit under this plan, with an average annual savings of $97.
Businesses and commercial vehicle owners using E-ZPass and paying between $100 and $9,999 in annual tolls. Cuomo said 26,139 businesses would benefit from this, with average annual savings of about $686. Additionally, 976 commercial trucks would benefit under this category, with an average annual savings of $1,872.
Cuomo also said vehicles owned by farmers using E-ZPass and used to bring farm goods to market would have tolls eliminated through a 100 percent credit. This would amount to a total savings of $5 million annually.
As good as it sounds, the NYSMTA's Hems knows it has a long ways to go before it is law.
"At this point, however, it is simply a proposal that will be made as part of the 2016-2017 state budget," said Hems. "The details will still need to be worked out and ultimately the full legislature will need to approve it for it to become effective.
The governor also proposes a $22 billion multi-year plan to improve roads, bridges and other infrastructure. He said this is the largest capital program in the state's history, and includes:
$1 billion BRIDGE NY program to replace, rehabilitate and maintain at least 200 state and local bridges.
$1 billion PAVE NY program that will include up to 1,300 miles worth of state and local road paving projects.
$500 million Extreme Weather Infrastructure Hardening program for roads that are susceptible to flooding and other extreme weather.