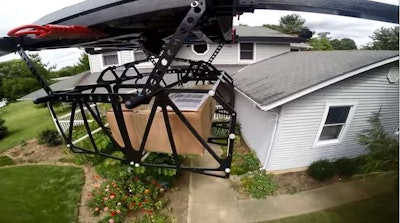 "We need more government regulations," said very few people not currently drawing a giant paycheck for a part-time job in Washington D.C. But if you're a fan of technology, good news is on the way.
The feasibility of drone delivery has been looked at closely for the past few years, but it has really heated up as drones became more powerful, more efficient and – most importantly – cheaper.
Recently, the Federal Aviation Administration (FAA) granted truck OEM Workhorse an exemption that allows the company to continue testing a small drone, nicknamed HorseFly. The drone is designed to launch from one of the company's electric delivery trucks and carry packages weighing up to 10 pounds. With a range of about 25 miles, the drones can fly upwards of 50 mph for up to 30 minutes before needing to return to its retractable launch pad atop the truck.
Once the HorseFly launches itself, it flies autonomously with the aid of GPS navigation until it nears the delivery site. It can then be remotely controlled via joystick until the delivery drop is made before making its autonomous return.
As Star Wars and impractical as this choreographed process sounds, it apparently works.
Earlier this month, HorseFly successfully delivered a Star Wars toy from its truck-mounted base to a house in Ohio.
The prospect of drone delivery has come a long way in the last 12 months, but a 10 pound capacity with a 30 minute range shows you just how far it has to go. Dropping off a scale model of the Death Star isn't exactly walking on the moon, but getting a waiver to test in the National Air Space is a step in that direction.