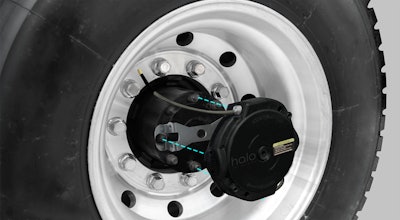 While tire pressure monitoring systems (TPMS) come standard in passenger vehicles, the aftermarket is the only storefront for heavy duty vehicles due to the unique challenges at play.
Indeed, early attempts at making TPMS for fleet applications were riddled with setbacks. Some suppliers used sensor caps fastened to valve stems. The caps flashed if tire pressure dropped below a certain threshold, but the sensors were unable to withstand the rigors of long-distance and off-road trucking. TPMS often needed more maintenance than the tires themselves.
Sometimes caps leaked and removing them added extra time to routine pressure checks and tire inflation. What the sensors did is save time by eliminating unnecessary pressure checks. Yet drivers had no way to detect leaks while their vehicles were in motion unless the fleet paid extra for a system that transmitted alerts to an in-cab display.
On the other hand, automatic tire inflation systems (ATIS) have enjoyed a much longer streak of success. In heavy-duty applications, the systems use pressurized air from brake lines to maintain tires at a constant pressure and send alerts when tires are leaking.
To date, ATIS technology has been confined to trailers since the hoses are routed through the center of the axles and mounted on the wheel hub to supply air to tires. Using ATIS for drive tires is an elusive goal. Differentials, gear axles and extreme temperatures all stand in the way of routing pressurized air.
Nevertheless, the Holy Grail of tire pressure management — an integrated ATIS for all 18 wheels — is now within reach, says Scott Perry, vice president of supply management and global fuel products for Ryder System, which provides leasing and truck rentals, among many other services.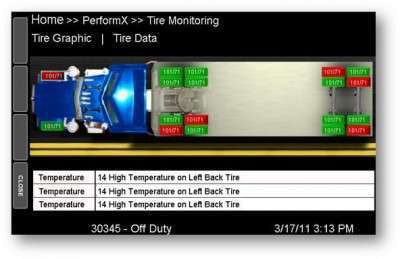 Ryder has used an ATIS from Meritor PSI on its fleet of rental trailers for approximately seven years, he says. The company is currently evaluating some inflation products for use on tractors. Perry specifically mentioned interest in the Halo system from Aperia and a new product from Meritor.
"Some product will gain traction," he says. Progress has been slowed by record low fuel prices. The main incentive for fleets to buy TPMS and ATIS technology is  fuel savings by maintaining tire pressures. Extending tire life and reducing breakdowns are secondary paybacks.
Below is a sampling of ATIS products for drive axles that are either currently or soon to be in the market.
The Halo Tire Inflator, from Aperia Technologies, is a bolt-on device with a small internal pump driven by the rotation of a wheel. It is designed to replenish or adjust pressure loss resulting from minor leaks, leaky vale stems, seepage, and temperature compensation. It can be applied to dual and wide-based tires on drive and trailer axles. Aperia recently launched a nationwide network of dealers to offer Halo for fleets in multiple locations in the U.S.
Dana Holding Corporation is currently road testing a new internal axle system for drive and steer axles on commercial-vehicle tractors. Dana says it will be the first in the market to offer a fully integrated, electronically controlled system. Dana says the new tire pressure management technology can improve fuel economy by 1 percent by making periodic checks to ensure that each tire is properly inflated to a pressure equalized with the other tires on the tractor. As needed, it inflates tires to the optimum pressure and can equalize pressure in all tractor tires, minimizing tire dragging and premature wear. A closed design isolates the tires, preventing a hose failure or tire puncture from affecting the other tires.
TyreAid offers a system that mounts on the hub with a hose assembly that equalizes the air pressure between dual tires. TyreAid's equalizing valve automatically shuts off if the pressure difference is less than 4 PSI of normal inflation at 110 PSI. The wheel-mounted device communicates a low pressure alert that is picked up by a receiver device in the cab. The device can also be used by fleet maintenance to check a yard full of equipment to find under-inflated tires. The receiver beeps if any are within 300 feet of range.
While no one is anxious to see the return of $5.00 diesel, higher fuel prices would certainly speed adoption of ATIS technology. And when that day comes again, the technology will likely be moving from the aftermarket to the factory floor.