Last August, John Graham sat down for coffee with Dr. Irwin Jacobs, co-founder of Qualcomm and the pioneer of satellite tracking and mobile communications in the trucking industry.
The conversation lasted for three hours in Dr. Jacobs' home.
"He wanted to hear what is going on with Omnitracs," Graham said during a morning keynote address at Omnitracs' user conference, Feb. 1, in Dallas. When Dr. Jacobs learned of the strategy and investments being made, he told Graham "this is exactly what we needed to be doing years ago."
In November, 2013, Graham became chief executive officer of Omnitracs following the purchase of the entity from Qualcomm by Vista Equity Partners. In short order, Omnitracs acquired complimentary mobile providers Roadnet Technologies and XRS, moved its headquarters to Dallas, and doubled its headcount from 550 to nearly 1,100, among other large feats.
In terms of headcount, "we are probably at the size we are going to be," Graham said.
Since last year's inaugural user conference, Omnitracs invested $50 million in research and development and its 2016 plans call for $70 million. Graham said the company has met all of its commitments to customers for the delivery of new products that were planned for 2015.
"We can always get better. We are not always perfect and we have our challenges, but when we say we are going to do something we want to come through with that," he said.
A new gateway
The highlight of the Omnitracs Outlook conference, held at the Hilton Anatole Jan. 31-Feb. 2, was a new Intelligent Vehicle Gateway (IVG). This new Windows mobile platform expands on the capabilities of the Mobile Computing Platform line that Omnitracs inherited from Qualcomm. It also represents a single, and unified, development path for future applications both inside and outside the vehicle.
The IVG is a tethered, tablet-style device with an 8-inch touchscreen display and a quad-core processor that gives it significantly faster response time than the MCP, at a fraction of the cost.
An intelligent voice interface (IVI pronounced "Ivie") responds to certain voice commands from drivers. IVI uses a woman's voice that sounds and functions similar to the Siri assistant of Apple devices. Only instead of holding the home button to activate, a driver can execute functions hands-free while in motion.
The initial set of voice commands for "Ivie" will give drivers the time remaining on their duty cycle clocks, let them adjust the volume, screen brightness, and return to the home screen. Like the MCP devices, IVG has text-to-speech functionality to read incoming messages and alerts to drivers.
IVG rests in a dash-mounted cradle with a cable that connects the computer to the vehicle's diagnostics port. Installation time is less than 30 minutes, the company says. Drivers can hand the device to an inspection officer outside the cab or take it to the sleeper to send messages and complete work.
Omnitracs has been beta testing the new platform for the past two months. Commercial release is planned for March. The initial release will have all of applications available today on the MCP 50 – messaging, hours of service, vehicle inspection reports, critical event reporting and navigation.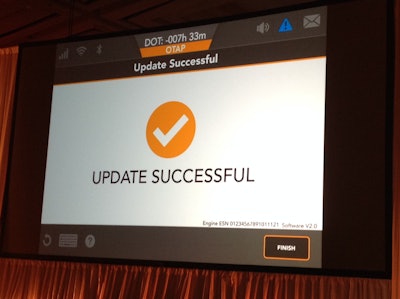 A future release, scheduled for later this year, will be compatible with all of the applications currently available for the MCP 200. A Wi-Fi hotspot will be added this year as well, and an HTML-5 browser is scheduled for early next year. The new device has multi-channel Bluetooth wireless for communicating with other smart devices, such as printers, scanners, and sensors in and around the vehicle.
The new mobile Wi-Fi functionality will be offered with data plans that range from 200 MB up to 2 GB per month, says Michelle MacCollum, director of product management.
Also planned for a future release is critical event video recording and an application programming interface (API) suite that will give fleets the flexibility to use the data collected by IVG within their own apps, such as a driver scorecard.
Engine commands
Another future capability, planned for release in early 2017, is over-the-air engine programming. Omnitracs, in partnership with engine manufacturer Cummins, will be able to send remote updates to engines. When an update is available, Cummins will communicate with the IVG platform in a vehicle for verification before sending a file. Once IVG receives the file, it will interact with the driver to manage the install when the vehicle is not in motion.
Cummins plans to make over-the-air updates available on its 2017 model year engines, says Mark Alsbrook, senior product manager of Omnitracs. "We are hoping to have this launched the day that Cummins announces it," he says, predicting that the launch date will be in January, 2017.
In addition to sending updates, Omnitracs is working with Cummins to enable fleets to adjust certain parameters over the air. One possibility is to automatically change the governed speed limits of a truck as it crosses state lines, he says.
Overall, the direction and strategy for Omnitracs is tied to management of drivers and assets that are connected to the Internet of Things, or as Graham described it, the Internet of Logistics Things.
"At the end of the day we want to be the lynchpin between the driver and the fleet manager, and across the network," he said. "We want our applications to operate smoothly and efficiently in that environment."